Setting up an online store may push you to decide on a variety of objects. The significant part of it is deciding the eCommerce platform that would become the foundation of your online presence and business venture. 
If you try to search the web, you can come across numerous options however, Magento or WooCommerce is discussed the most as competitors for acquiring a higher market share. Shopify is a big no for businesses that are not interested in paying a hefty amount every month in terms of website setup. Similarly, there are issues with other eCommerce applications as well. 

Magento stands out for its well-built structure and eCommerce readiness while WooCommerce has garnered a user base because of its simple user interface that can easily be installed and managed from WordPress dashboard. Both platforms provide open-source code for developers and store owners to carry massive changes and customization for molding the structure and design exactly how they need. Both have their assets and liabilities that may help you prefer one another. This article highlights some of the core features along with advantages and disadvantages for a detailed comparison of Magento Vs WordPress WooCommerce.
What makes WooCommerce different than Magento? 
WooCommerce rose to fame in recent years. However, Magento is among the leading eCommerce solutions. Both are developed with the view to facilitate merchants in setting up a website. However, WooCommerce relies heavily on the WordPress CMS platform, but Magento is a standalone platform that owns its dignified identity. 
Magento, being a pioneering platform, is rich with practically useful features that any eCommerce website may need in the beginning. A comparison of WooCommerce Vs Magento is useful only if a merchant knows the requirements and scope of his or her online business. Both the platforms serve the same purpose. However, it is the individual goals of every enterprise that sets points for taking a final decision. For your help, this article draws a clear line between Magento Vs WooCommerce platforms for you to seek assistance.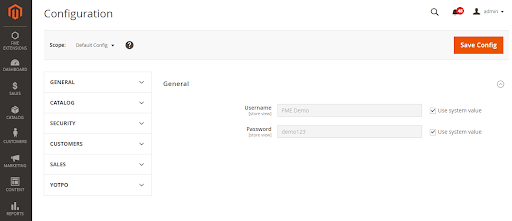 WooCommerce
WooCommerce has acquired a major portion of the eCommerce market because of its simple and easy user interface. However, it is not a dedicated and standalone solution for setting up online stores. It is a plugin that can be installed on a WordPress-powered website. WordPress is one of the most popular CMS platforms that are exclusively developed for blogging websites.

With the introduction of WooCommerce, the platform proved to be useful for merchants as well because a simple website can be transformed into a fully functional online store with a mere plugin installation. Websites that are already developed in WordPress technologies find it easier to turn the same website into an eCommerce one. It saves them a lot of time and money. 
The simplicity of WooCommerce is the key attribute behind its success and popularity. It is easy to use, understand, and manage. An online store does not require expert personnel to update and maintain a WooCommerce website. The easy customization options allow store administrators to make the changes themselves. Its lightweight application is also an advantage as the merchants are not required to spend a lot on bulky hosting and continued services of speed and performance optimization. 
Core Features
Easy and simple user interface

Quick setup and installation 

Supports a great number of products

Free and premium plug-ins in abundance 

Easy integration of different payment gateways 

A vast collection of customizable themes – free and low cost

Simple maintenance 
Advantages of WooCommerce
Free and open-source platform to use

Simple user interface for staff to follow

WordPress users can easily understand WooCommerce

Useful documentation for users to seek help from 

Affordable for any kind of business to take a start

Integrate Google analytics with a simple plugin or code insertion

SSL supported for extra security 
Disadvantages of WooCommerce
Limited eCommerce features 

Difficult to manage orders in high volume

Reliance on WordPress 

Hard to expand and scale-up an online business

Need to install a plugin for the slightest of eCommerce functionality 

Installing plugins can create version conflicts

Free themes and extensions are highly vulnerable to cyber attacks

Do not allow complex catalog management 
Magento
Magento is an incredible platform that is purpose-built for setting up eCommerce websites. It is considered one of the pioneering eCommerce platforms known for its free and open-course edition. In addition to its free edition, previously called a community edition, Magento has an up model names Magento Commerce. The premium edition can either be hosted on a self-managed server or a cloud server managed by Magento itself. It comes with built-in advanced functionalities that are not available in other eCommerce platforms.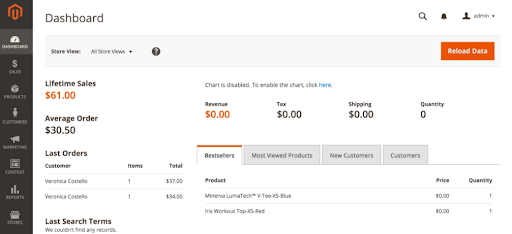 Magento is developed with absolute consideration of business scalability. Anyone can set up a small-scale online using this amazing platform and expand as the business grows. It allows adding multiple categories and stores without any difficulty. It is an unmatched platform for setting up a multiregional and multilingual website. Businesses that aim to operate across borders and reach out to people across different cultures and ethnicity can utilize the functionalities of the platform. It even allows merchants to manage multiple websites from a single dashboard. Thus, Magento is a goldmine for entrepreneurs looking for an ultimate enterprise management solution. 
Core features
The strong and purpose-built structure

Basic to advanced eCommerce features

Extensive and supportive community

A massive collection of extensions 

Easy third-party extension integration 

A series of supported APIs

Simple user interface

Easy product and category management 
Advantages of Magento
Independent and stand-alone eCommerce platform 

Increased scalability with MVC framework

Start low, get traction, move confidently 

Freedom to choose among open source, commerce, cloud versions

A helpful community to address any issue you may face

skilled and experienced agencies tailor the right solutions

multiple solutions for a single problem 

Suitable for both B2B and B2C models

Customer-focused product and landing pages 

Impressive order management 

Improved features for payment and shipping processes

Promotion and marketing tools
Disadvantages of Magento 
Expensive to host and setup 

Difficult for a common staff member to use and manage

The lesser focus for websites that manages heavy content 

Expert and trained staff required for managing the website

Extensions and tools can be expensive 

Migration to any other platform can be a new beginning
WooCommerce Vs Magento: Which one is the best?
Considering a platform the best of all is a bit difficult as both of them have different domains despite being eCommerce development applications.  Magento comes as a priority for large businesses where they don't have to play havoc with their online venture. People who want to lay down a strong foundation right from the first day of their virtual business are likely to choose standalone and purpose-built platforms like Magento. However, people with small budgets who like to invest a minimum on website setup will love WooCommerce to be their sole eCommerce platform. Such people are not clear about their vision and goals as all of their business expansion and growth plans depend upon the return. They will look into expansion only if the website generates revenues. 
Magento can be considered the best for providing a fully functional eCommerce platform with lots of advanced features. It is suitable for businesses that need to manage an extensive catalog, reach out to clients with a business-to-business model, and integrate lots of Magento extensions and APIs. WooCommerce on the other hand matches the needs of content-rich websites. For example, news agencies and blogging businesses where they aim to sell is useful and high-authority content with a secondary option of projecting products in its eCommerce section. 
Conclusion 
Magento is a premium eCommerce development platform with an option to try the free version and move on to other official options. A merchant if unable to find a reliable developer can seek official Magento partners or let the, On the other hand, WordPress has no such option available even it's founding company also takes some of the serious issues for granted. These were some of the key differences. However, the final decision still depends on the nature and scope of your business. Every business is different with a separate identity and user base that's why one eCommerce platform does not fit into everyone's expectations.