Email Marketing Practices for Local Businesses
Email marketing has been competitively standing its ground as one of the most cost-effective tools, bringing great results to companies worldwide.
Local businesses are enjoying the benefits of email marketing, so why shouldn't you? Keep reading and find out more about how to build an email list, the best practices, and some content ideas!
Choosing an Email Marketing Tool
Whether you are new or experienced in the field of email marketing, you will not be able to do this on your own.
For that reason, a good email marketing tool is needed for you to achieve the best results possible. If you are looking to save money and still enjoy all the benefits – Sender is the right tool for you.
It contains a free forever plan which includes all the necessary features such as:
Automations
Integrations
A/B testing
Analytics
Template library
And much more
As a result, you will be able to craft stunning emails in no time without worrying about the finances.

 Building an Email List
Before you communicate with your local customers, it is important to gather information about them which will become very beneficial when creating your emails.
The data collected will help you segment your audience into categories based on their:
Behavior
Needs
Age
Gender
In that case, you will create emails that are suitable for all the categories in your segmentation and approach the clients in the best manner possible. Let's look into a few ways on how you can gather the email list if you don't have it yet:
Using landing pages
You can place sign-up forms on your landing page (hint: it's super easy to build landing pages with the right landing page builders), where customers interested in your brand can leave their details for further contact. You can arrange pop-ups that will appear at the right time (on arrival to the website, before leaving it, etc.) to trigger the sign-ups.
Here is an example of great pop-up you can build using Sender: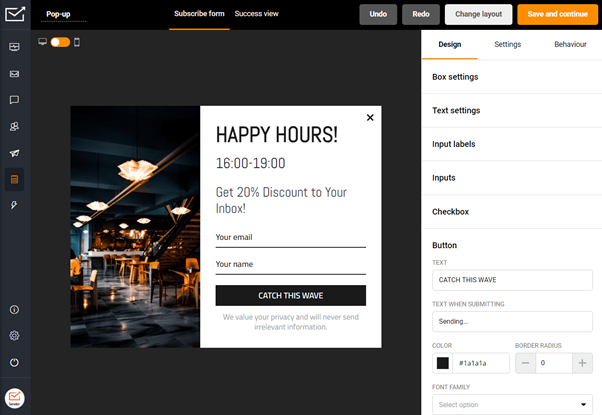 Social media for lead generation
If your social media followers seem to be engaging, you might try to ask them to subscribe to your upcoming emails. Simply leave the sign-up form, which they can fill to receive your latest news and offers.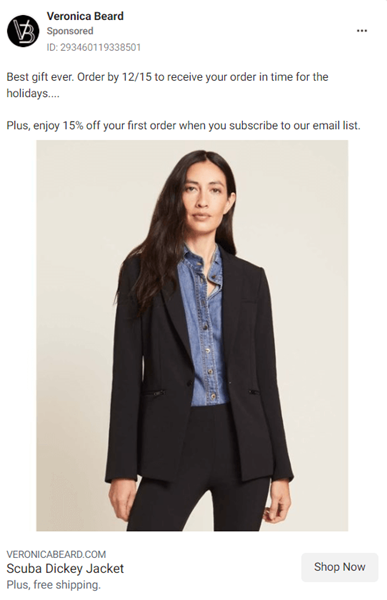 QR codes in your store
Your physical store, café, or restaurant are also excellent places to gather subscribers. You can provide your customers with a QR code that will open the sign-up form. Besides, once you are face-to-face with a client, you can encourage them to register and tell more about the upcoming benefits they will get.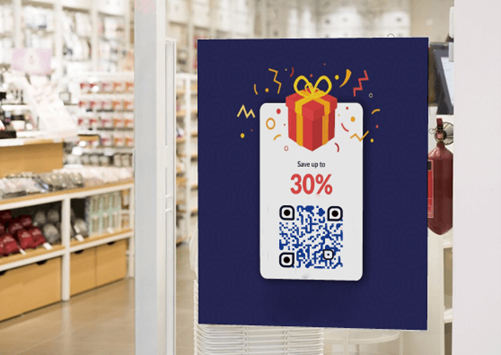 Partnership with other local businesses

You can join forces with other businesses around you to create an email list. For example, if you sell coffee while the business nearby sells cakes and chocolates, this might be a great opportunity to partner up and achieve the goals together. Besides, you will gather more potential clients who have never shopped with you before.
Regardless of the method you decide to choose for email list building, it is always good to motivate your clients with a little encouragement. Offering a small treat or a discount will be advantageous as more people will be willing to sign-up in return for something special.
Best Email Marketing Practices and Content Ideas for Local Businesses
Email marketing is not only about increasing your sales and accomplishing the business goals. In order to do that, you have to give something in return to your subscribers so they would be keen to buy from you or use your services. Below, there are a few strategies that you might want to use for your email marketing and some content suggestions:


1. Send Newsletters (Weekly, Monthly, Annually)
Email newsletters are filled with useful tips and tricks your target market can benefit from. They help to establish solidarity, lend authority and contribute to a long-term customer relationship.

Content Ideas:
Local announcements – talk about the upcoming events, community gatherings, special days, or other important information. Use videos in your emails to make your announcements even more engaging.
How-to tips and tricks – teach your subscribers something related to your business. For example, if you are a coffee shop, you can give tutorials on how to make a great coffee, what coffee beans are the best, the benefits of coffee, and more.
Local guides – share your opinions on the local community and how to improve it and provide guidance on the best places to visit, eat, drink, or shop.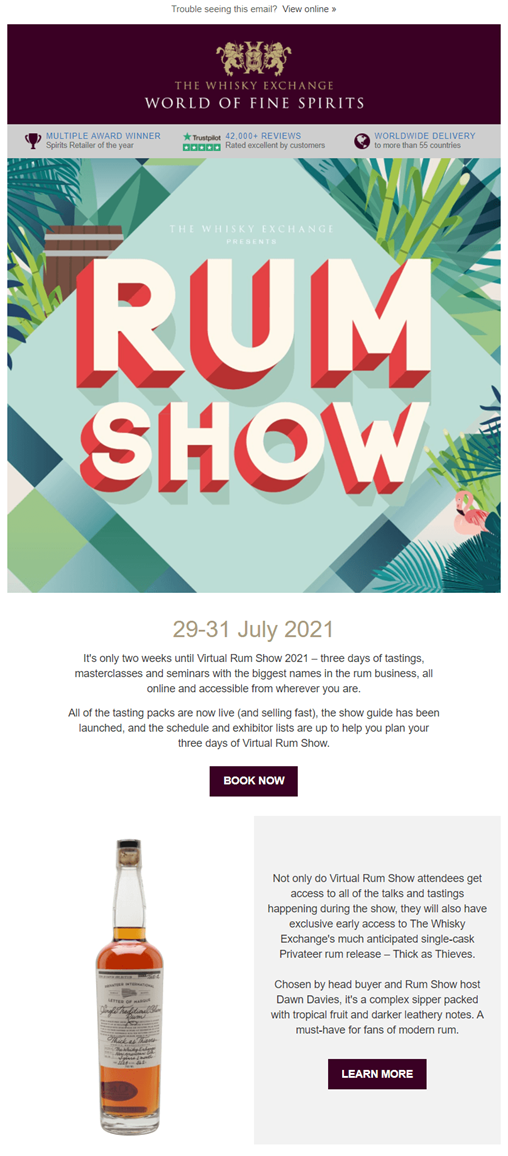 Source: Original The Whisky Exchange email
2. Provide Special Offers and Discounts to Your Customers in Email

Create relationships and build loyalty by providing special offers and discounts to your customers and subscribers. It is good if your offers relate not only to special holidays and days within the year but also to community events and gatherings.

Content Ideas:
Seasonal offers to the local community – you can create unique campaigns and discounts for holidays to celebrate local residents and encourage festivities.
Promotional emails – send limited-time deals to motivate quick sales and purchases. The sense of urgency always encourages people to buy.
Ask for a review – testimonials help businesses improve, so motivate your clients with a gift or a great discount in return for a review.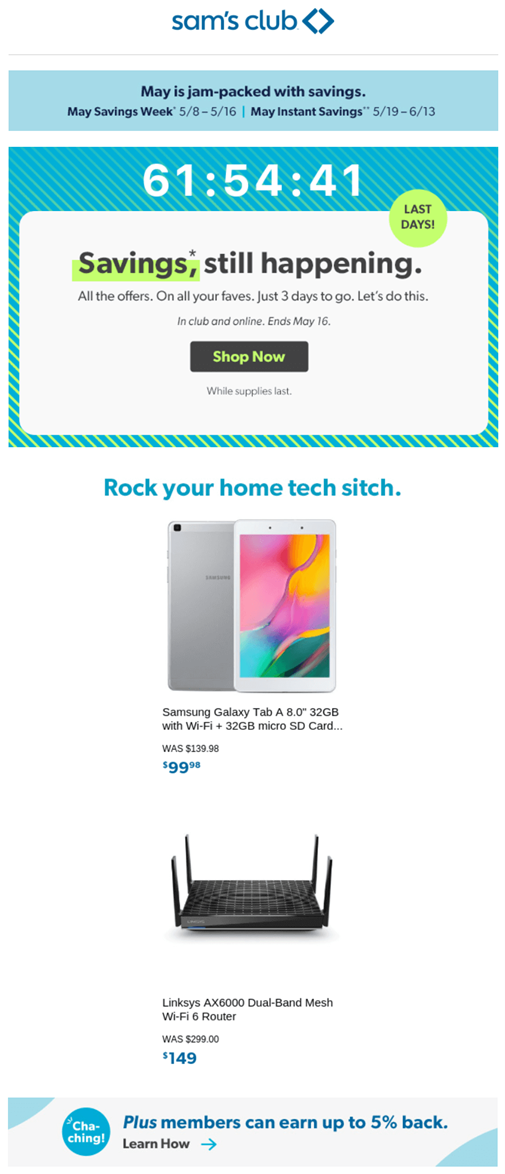 Source: Original Sam's Club email
3. Encourage loyalty

As your focus point is the local community around your business, keeping these residents loyal to their area is important. However, a little encouragement and special attention are needed to showcase that the customers are valued and appreciated.

Content Ideas:
Send gifts – to say thank you for loyalty, award the customers with gifts: a free cup of coffee, 2 drinks for 1, etc.
Extra attention on special days – although all customers deserve attention, loyal ones deserve more. Give more significant discounts or send exclusive offers just for the long-lasting clients.
Birthday wishes – send a card or special deal to celebrate the birthdays of your loyal clients. This extra attention will definitely show how important they are to your business.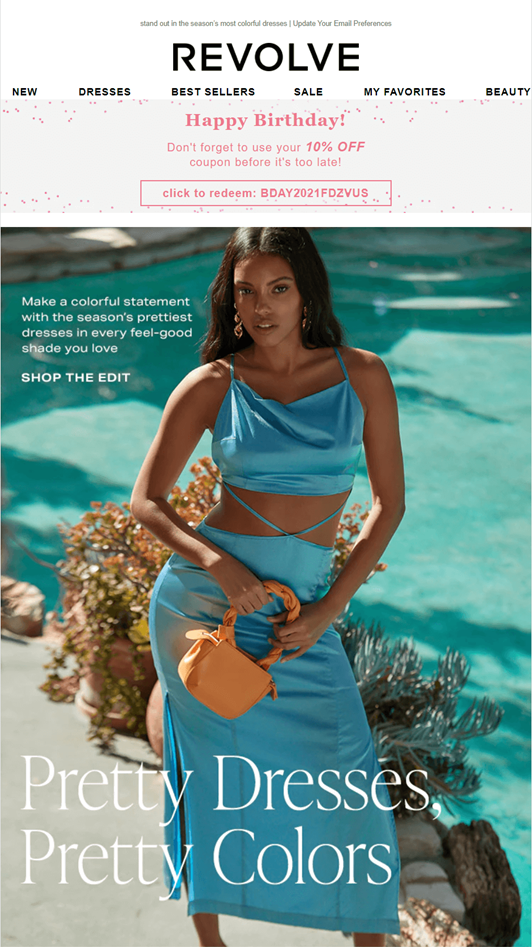 Source: Original Revolve email
It's Time to Take Action with Email Marketing for Your Local Businesses
Remember, the size of your business does not matter when it comes to success in email marketing. Instead, crafting the right strategy and ensuring that customers enjoy the content you provide are keys to victory.

For starters, selecting the right marketing tool is necessary as it will be your partner and best friend throughout this journey. Sender is definitely a good choice if you are looking to save money but still rock in your email marketing game.

Do not forget to build an email list that will be your focus point when sending your campaigns and deals. The more information you have on your audience, the more personalized emails can be crafted.

Lastly, decide on the types of emails you are willing to send to the customers. Ensure that your content focuses on providing value and benefits to the local community so at the end of the day, they become long-lasting loyal customers.
About the contributor: Words and their magic drive Luka. It's her biggest passion and natural habitat. So she lives by the motto - the mind is clearer when you write down what's inside it. Oh! And Luka also manages the content for Sender.net, ensuring that everything is on point.

Grow Your Business with Profitworks!
Profitworks Small Business Services provides website traffic and website conversion optimization services to increase the number of sales generated from a website. The focus of our services is on increasing sales and providing a positive return on investment!
If you are interested in getting new customers for your business, contact us today!
You can also download our Closed-Loop SEO Marketing Services Brochure or our free SEO checklist by clicking on the links!
What Profitworks Customers Are Saying:
"We saw not only an increase in website traffic, but more importantly in the quality of leads. It means we are spending more time on the things that truly make a difference to our business." (Dave Mattingly)