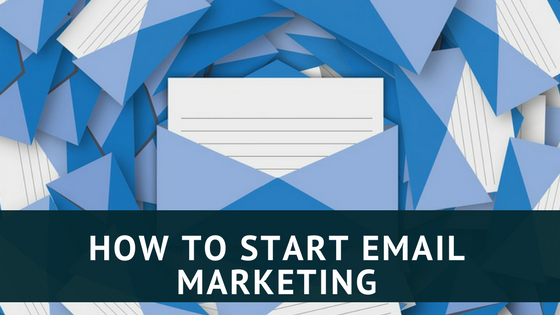 Email marketing is one of the most effective tools for return on investment for marketing, as it remains the best way to cultivate customer relationships into sales. Case studies covered in this article showcase how companies can make 200-4000% return on their investment in email marketing. In 12 steps and in as little as 15 minutes, learn why email marketing is so important, how you can fully setup and utilize email marketing. The steps to start email marketing are quick and easy, first sign-up for ConvertKit the industry leading tool for email marketing, then set-up your email marketing account, then you learn how to craft the best email marketing message, then create your first campaign, and finally monitor the data to ensure results. In this blog article and podcast, we're going to discuss why email marketing is so important to companies who want to grow their businesses and how any company can start today in as little as 15 minutes.
Profitworks Inc. is an expert in the field of Email Marketing, which is one of the highest average ROI marketing mediums available to businesses. If you're looking to make a marketing plan for the first time, check out our FREE marketing template. Click here to check it out now!

Executive Summary
Every business should use email marketing because it has a high return on investment, it is easy to do, it is low cost, and it creates high-quality leads
Companies often earn at least 2-40x the investment they made
Email marketing is best done with automation tools, in which we recommend Covert Kit as it is an industry leading application
Email marketing strategies that win include: creating excellent copywriting of subject and preview texts, using GIFs, keeping it short and simple, linking to content on their site, and making things fun
Use Convert Kit to quickly setup and manage your email campaign by signing up, configuring your account, planning your content, creating a campaign, and then tracking and managing your email marketing performance
Sales & Marketing ROI Podcast: Episode #54
How to Start Email Marketing. Click the link below to listen to the podcast.
Listen to this podcast- click here

Subscribe our podcast now - click here
View a full listing of our podcasts - click here
Why Email Marketing is Crucial to Businesses Growth
Email marketing remains a great way to help connect to customers, provide them with meaningful information about their questions, and help guide them to go from audience member to brand fan. Here are two examples as to why email marketing done right is so impactful and a great driver to business growth.
LV='s Email Marketing
Here is an example of how a company used email marketing to speak to unique segments of users at different stages of the purchasing journey for insurance, leading to helping more customers and while achieving real results.
LV= looked to improve the following outcomes as part of their email campaign:
ROI from email marketing
Number of customers acquired through email
Branding and customer rapport
LV= achieved improved on these outcomes by sending targeted messages to their customers. For example, when customers provided info for a quote and didn't finish completing a transaction within 3 days an email would be sent to ask them to retrieve their quote. After the customer purchased the quote another email relaying a thank you message and other relevant products was sent. The results were substantial as LV= converted abandoned sales journeys to recuperate and acquire additional customers by:
Increasing average monthly email open rate to 51.1%
Improving average monthly click through rate to 41.83%
Increasing conversion rate from direct email to 10.77%
Augmented average monthly total customer conversion to 18.82%
Their ROI was almost 200% for each dollar spent on the marketing campaign.
Source: Econsultancy
Market Leaders use Email Marketing Because of High ROI
Automated email marketing campaigns require less technical effort to run while offering an expansive reach to prospects or existing customers to reinvigorate a sales journey. Whether a customer is deciding whether to purchase your product or deciding on which of your product or competitor's should be purchased is all part of a sales journey. Email marketing is one of the most efficient ways to reach a broad number of individuals and coupled with Customer Relationship Data or e-commerce data may be one of the most effective marketing strategies available today. There is a saying that it is important to bring the message to the people and despite the many apps and social networks available, ultimately everyone has an email. Email is now what the home telephone once was: a reliable channel to get a message to people. Marketing Schools also looked across industries and noted that for each $1 invested in email campaigns among others, $40 of return could be expected, making it a safe investment.
Actual case studies featuring companies who have tracked their email campaign progress boasts even higher returns:
Email Marketing Demystified: What you need to know before you get started
Email marketing helps connect you to customers or to better serve your existing customers by offering them other services or products. The illustration below helps to visualize one purchase cycle, and depending on your business this may, in fact, occur a number of times if your prospect or customer is interested in multiple things you have to offer.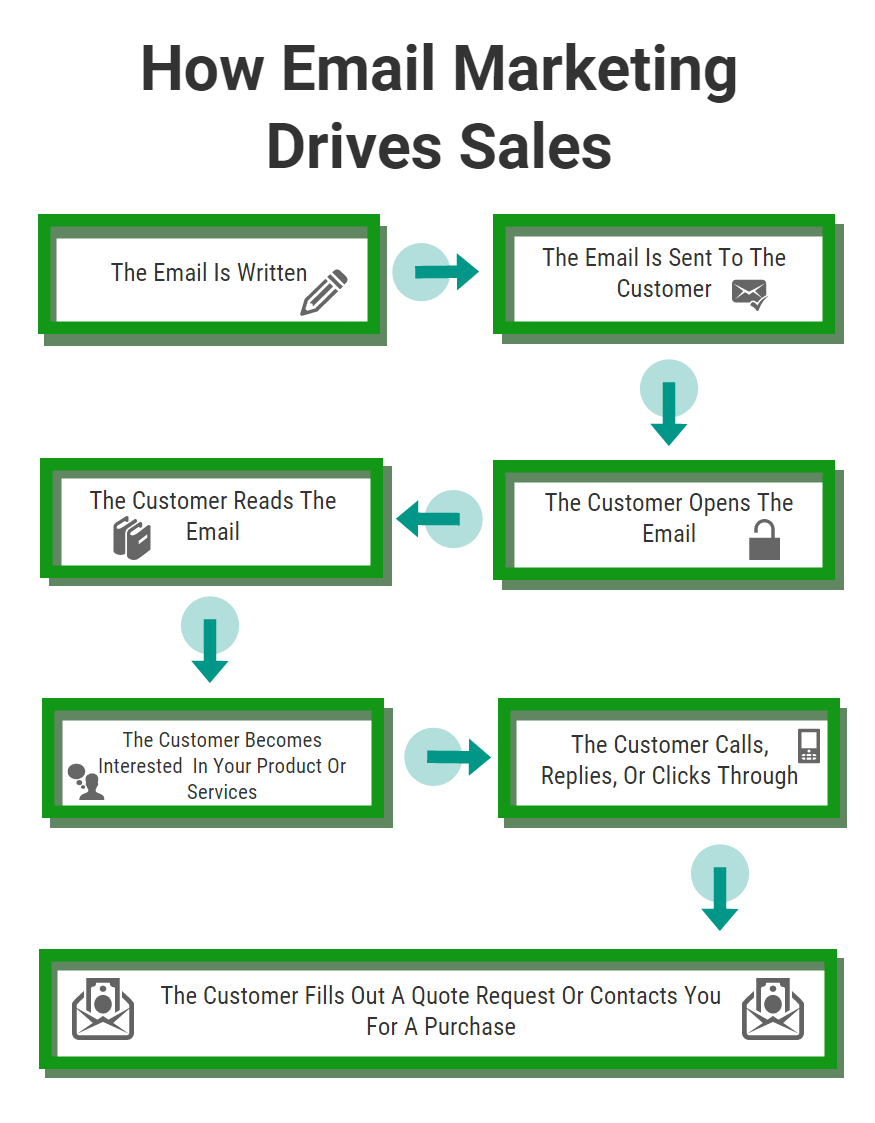 What is key about this is the messaging, timing, and delivery. We explore each before getting started because it's just as important as the technology you will use to send emails.
Messaging requires finesse in understanding who the receiver is: depending on whether you are speaking with a prospect or a brand fan the email can be very different. To determine your messaging figure out what is important to your prospect or existing customer and tailor the message appropriately.
Timing means getting the message at the right time: depending on when emails are sent the probability of people opening them changes. Timing requires keen understanding as to the behavior of your target customer. Whatever the lifestyle and habits of your customer are, seek to reach them at the time they're most likely to be using email.
Delivery means using the right colors, themes, and imagery: if your customer is into sleek design or casual styles, knowing this helps you focus and narrow your messaging. Test the design and layout with actual consumer profiles and get their feedback.
ConvertKit is the Industry's Leading Email Marketing Software
Email marketing tool selections are extensive and knowing which one to choose may be difficult. In the experience of Profitworks working with clients, ConvertKit is one of the most user-friendly and impactful tools available. In fact, we've seen how people have switched from the other industry leading tool MailChimp to ConvertKit. In our experience and our client's experience, ConverKit is a great application because it does these things so well:
Ease of setup and configuration
It helps audiences get engaged into content and a conversation quickly
ConvertKit doesn't charge for subscribers who are interested in multiple mailing lists
ConvertKit provides data as to the performance of the sign-ups of email opt-in forms
It's also priced fairly in that what we get for our subscription is leaps and bounds more than what we pay for
ConvertKit is a great application and we'll be using it as part of this tutorial on setting up email marketing. See below to understand just how straight forward and pain-free it is to use ConvertKit.
Signing Up for ConvertKit is Easy and Straightforward
Signing up for ConvertKit only really takes a few steps:
1 - Go to www.convertkit.com and click on pricing at the top


2 - Click on the second plan that helps you get started



3 - Create an account by entering an existing email and password

4- Then fill in the billing details and you're done!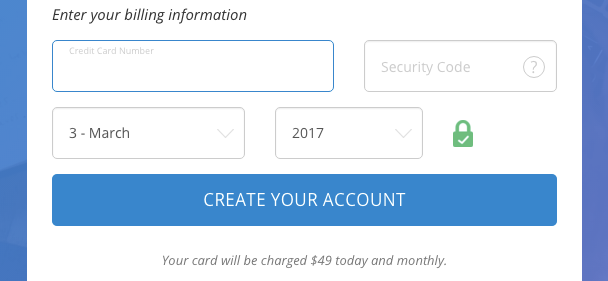 5 - Setting Up Your ConvertKit Before Writing Your First Email in Just 8 Minutes
Now that we've registered for your ConvertKit account the next thing to do is to build a list of recipients by adding an email request form on your website. This is the first process that needs to be completed before sending out your first email.
Top Ways to Write Convincing and Engaging Email Marketing Campaigns
Now that you've created a source of recipients for your email marketing campaigns, the next step is to write an engaging piece of marketing. If your inbox is like everyone else's it's probably full of marketing emails most of which become noise unless you follow these 5 approaches to writing a great marketing email.
Use Subject Lines and Preview Texts Effectively
Here is a sample of subject lines from Buzzfeed that aims at giving people the most socially curated content.
Subject: Get up! Get Up Now!
Preview: It's time to get out of bed, people.
Why it works: Buzzfeed knows that their readers typically read during the morning before starting their day so they cater their message to catch those who are just getting up.
Taking it to the next level: Buzzfeed goes one step further and uses the alternative text associated with images to give more context, knowing that sometimes their emails may get filtered into a junk box thereby removing images.
Use and Short and Sweet Layouts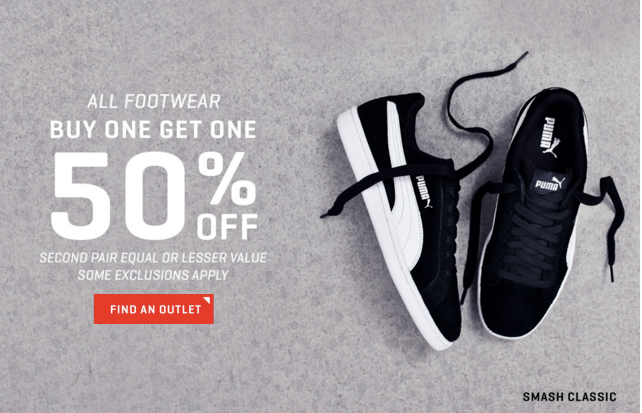 Most people aren't fans of a wall of text, especially if their inbox is already full. Puma cuts the noise by creating short 3-5 sentence emails along with a clear call to action. The formula that is used is:
What is being offered
When is it being offered
Get the Offer here
How it works
Why it works: a marketing piece if opened is given only a short period before it is discarded, thus ensuring your message is clearly understood in the shortest possible time frame helps ensure you don't lose readers.
Taking it to the next level: pare down your messaging so that the first two sections can be completely read and understood within 30 seconds.
Find Ways to Incorporate Fun and Creativity
Particularly for consumer-facing brands, adding well-written copy and helping people with daily rituals is a great way to serve customers beyond simply sharing deals with them. Poncho incorporates great layouts, color, and uses the knowledge that people like checking the weather to play on the fact that their sunscreen products require the right climate. They also incorporate fun by joking that you can use sunscreen as a premise to go see a dermatologist you might have a crush on.

Why it works: When people associate good feelings with your brand or service they are more likely to talk about or think about what you offer. Either way, this is a good thing for you and your team.
Taking it to the Next Level: Find a way to automate the pull of information using Zapier to help streamline this process even more.
Source: Hubspot
Use GIFs: the Next Best Thing to Videos
A GIF is a collection of images that run sequentially to create the effect of motion. Companies have used GIFs mostly on social media but they also make a great banner for email marketing when you need a way to spice things up. A GIF is best explained with a GIF - check this one out from Sprout Social: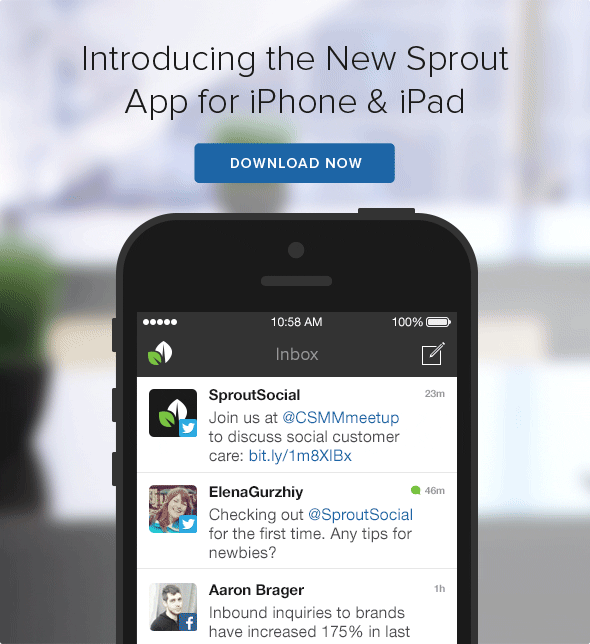 Why it works: an image is worth a thousand words, but a moving image further conveys emotions and thousands of more words.
Taking it to the Next Level: show the "a-ha!" or "wow" moments when people experience your service or product to boost effectiveness even further.
Add Links to your Website
Whether you are featuring a service or product, it's always important to provide a way for your readers to get more information. This way you can also broaden your approach by incorporating video or more immersive graphics.
Why it works: a website often serves a digital front office or store, getting readers to go to your website exponentially increases the likelihood of them turning into customers.
Taking it the next level: include links on your images or GIFs to make it even easier for readers to get information or carry out an action.
Launching your First Email
ConvertKit refers to one or more emails in a sequence because it sees a campaign as a series of communications to a particular segment of your customer or prospects base. Here are the steps to creating a sequence:
7 - Customize your sequence (using ConvertKit's editor)
8 - Configure Sequence Settings (schedule when your email goes out)
9 - Track your results (see how many people have opened or clicked your call to actions)
For more details see ConvertKit's Sequence User Guide
Tracking your Investment Helps you Find Ways to Improve
Tracking your return on a campaign is just as important as closing the sales because it will give you areas to improve and help make your campaign even more effective in the future.
10 - Add up all your expenses including time costs
Total up all the time you've spent setting up and administering the campaign x wage cost
Include the cost of using the software for that portion of the year
Add any paid images or logos that you've used
11 - Add up all the number of sales you've gotten from your campaign
Track where sales came from either with a coupon code, special URL, or by training sales staff to records email-sourced leads
Track any referrals that have been part of your email campaign (i.e. Joe sees an email for your product and he tells a friend that eventually buys)
12 - Monitor these metrics as the campaign progresses
Track Rate of Emails Opened: if you notice that this number is below 20% do some investigation to see why by sending out test emails
Track Rate of conversions
Track how much you're getting in actual sales: Based on sales value and expenses, determine how much your campaign has brought in
By tracking your metrics and return on investment you will know exactly how worthwhile your campaign is. This will help you continue to build out sequences for other segments of your market including prospects, existing customers, or new customers.
Do you feel you should have a marketing plan but you currently don't? Do you wish you knew what a marketing plan should look like and what components should all be included? The Profitworks Marketing Plan Template has everything you need to create and write your own marketing plan. The template includes a clear outline of all the components of a small business marketing plan with step by step instructions on how to fill in the template and build a marketing plan of your own! If you are interested in getting more customers for your business, you can download our free marketing plan template now! It has already been downloaded by over 5,000 people. If you need assistance completing your plan, consider our marketing plan training program.
"Our overall sales to new customers has improved as a result of detailed analysis, proposed solutions, and successful execution."
-Tom - Business Owner & Customer

Become The Leader In Your Market
Other Articles You Might Be Interested In