In this article I share some effective facebook advertising tips that have worked for my clients, with small budgets as small as $100. Facebook is now the most visited site on the web and it allows for pin point targeting given all the information Facebook has on its users. Since facebook can be so targeted and you only pay for clicks, not the amount of times your ads are shown, it can be a very low cost way to get many advertising impressions. Given these factors there is great opportunity to use facebook to propel your business and attract new customers.
In this article I use a lot of marketing terms that I know many small business owners are not familiar with. If this is you, reference our small business marketing terms dictionary to read the definition of any of the terms you are not familiar with. Or maybe you are not even sure how to set up a facebook ad. Check back to this blog next week when I will post an article on the step by step process to creating a facebook ad.
Tagline Tips
In the tagline communicate what people can get or how they will benefit from work with you. This will grab their attention much more than your company's name and be much more likely for them to look at your ad. Leave talking about your company and its name for the ad content. In doing this you will get more people to look at your ads more often and have what you do or the benefits of working with you ingrained in their heads. A good example of a tagline would be something like "Get corporate jackets", "Get promotional items", "Fast delivery - promo items" or "High quality - promo items"
Summary:
Communicate what you do or what makes you different in the tagline.
Content Tips
In the content is where I recommend including your company's name and more details. In addition I recommend putting your company's phone number and a call to action to call. So something like "Unique Embroidery in Waterloo. We can provide anything with your logo on it, jackets, pens you name it. Call Us Today! - 519-886-2102". If you can get the person who sees the add to call your business without clicking on your ad, you just got the customer for free since facebook only charges you if they click on the ad. This is why you want to include your phone number. Phrasing the call to action as a command like "Call Us Today!" is also important as research has shown using working like this will cause more people to take the desired action.
Summary:
Include your company name and phone number in the content of you Facebook ad.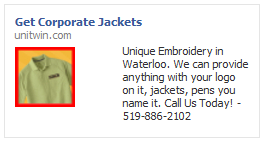 Image Tips
Continually switch up images to see how each image performs, keeping the headline and content copy the same. Some images to test are, your logo, pictures of your product, words like "buy" or "click" with a white back ground or a black background with white text. Another great test is to put colored borders around your images to see which one attracts the most clicks. A red border around an image has increased clicks for my ads but try a bunch of different colours as what works best for you may be different given the images you are using.
Summary:
Continually test different images to see how each impacts your click through rates.
Ad Rotation Tips
New ads get featured more until Facebook determines the click-through rate on the ad and how much money they can make off the day per every 1,000 times they show the ad. In general new ads with a small target of 5,000 to 10,000 people on average are shown about 2,000 to 5,000 times the first two weeks they are run. This means that if you create a new ad which is a slight modification of your old ad every two weeks you will get about 2,000 to 5,000 impressions a week with your target. This assumes you continue to let your old ads run as they will continue to be displayed a few hundred times a week. The changes can be very small, like a new headline, new image, or slightly modified content text. The great part about doing this is that you not only get a bunch of low cost impressions, you also can see how this small changes in the add change the click through rate. This information can be very useful when you are developing other marketing materials like direct mail and email as you will have a better understanding of what catches people's attention and compels them to act.
Summary:
Post a new ad which is a slight modification of an existing ad once every two weeks.
Targeting Tips
For the average person to understand and remember a marketing message, they need to see it on average seven times. Facebook advertising is great because it allows you to send marketing messages to the same people multiple times which makes it easy to get the amount of times someone sees a message up to seven times or even more. The key to be able to do this though is to select a small target so that all of your impressions go to that select small group of people that perfectly line up with your ideal prospect. Use all measures available (age, sex, interest, city) to pick people that are within the bullseye of people who would be interested in your target. The smaller the group the better, 2,000 to 3,000 people is ideal. Which do you think will be more effective, if someone on facebook sees your ad every day, or every week? Every day of course. Because you will be changing up the headlines and images of the ads they will never get tired of see the ads either because there will be a new ad every 2 weeks. The more you can get them to see your ads the more effective your marketing will be.
Summary:
Select a small target (2,000 to 10,000 people) so that each person who sees your ads, sees them more often.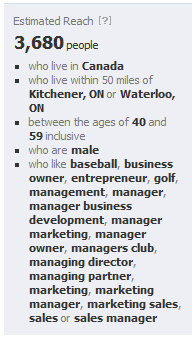 Bidding Tips
Always bid the minimum bid. Why would you want to pay more than you need to for a click. With the above ad rotation you will get may impressions, so bidding high is not required to get a large number of impressions. If your ad does have a high click-through Facebook will continue to serve your ad to the people you selected but you will have the benefit of paying the minimum charge for a click. The minimum price for a click is usually around $0.85 where as the suggested price is $1.10 to $1.84. If you example you on average make $2.00 per click and you decide to bid the highest suggested bid of $1.84, that would mean you would make only $0.16 per click versus $1.15 per click if you used the minimum allowed bid....that is a reduction in profit by 87%. Always use the minimum allowed bid as you will always come out ahead.
Summary:
Always bid the minimum allowable bid
The Most Important Tip
The biggest tip remember is to track this marketing initiative to see if it is worth your time and effort. To do this you need to understand if your facebook advertising is generating any additional sales, and if those sales are worth your time and effort given how much time you are spending on the facebook advertising. In order to do this you will need to find out where you new customers are coming from. This can be done very simply by asking new customers how they found out about you and what made them want to buy from you. To track you time simply write down every week how much time you are spending on it and keep a running total of the hours you have spent on it. Given facebook advertising is an approach that focuses on building awareness and then through that awareness hopefully convincing the prospects to purchase it will take a long time for this kind of marketing to take effect. If you are going to test Facebook advertising using the method above I would recommend testing it for a year before concluding that it is not working. It will most likely take at least 6 months before you start to see results. When you review that a look at how much business it has generated, your time spent on it and decide if it is something worth continuing.
Summary:
After a year review revenue generated from facebook advertising, your time spent on it and determine if it is an effective marketing method for your business.
Other Related Articles You Might Be Interested In
1. 7 Key Steps To A Successful Sales Meeting
2. Small Business Marketing - 5 Key Components
3. Use A Sales Scoreboard To Increase Results
My name is Chris R. Keller. I work at Profitworks Small Business Services helping various B2B small businesses in Waterloo and Kitchener Ontario generate new customers. Feel free to connect with me on Google+ or if you are just interested in getting new customers for your B2B small businesses enter your email in the box provided below and click the "Send Me Free Updates" button.
Get Customers Blog - Go To Blog Homepage
I hope you have enjoyed this article on effective facebook advertising tips. As always I love to feature guest posts on my blog. If you would like to write an article that is on a topic that is related to getting new customers, and have expertise to share, I would love to feature you. If you are interested just contact me and let me know what you would like to write on.