This blog post on the average cost per customer is a follow up to my other blog post on the results from my efforts to get new customers for my business in my first year of being in business. If you have not read that post I would recommend you start by reading that article. It is titled Get New Customers - Real Results. That article gives the details of my overall results. In this article I will explain by tactic how I obtained those results.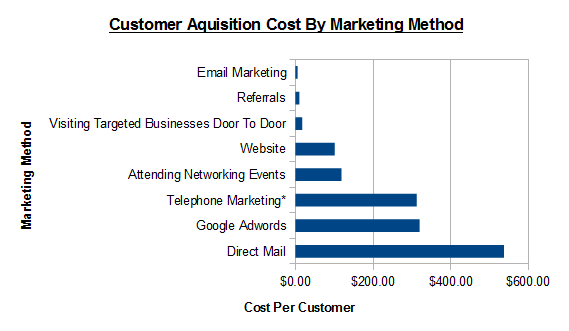 Above and below are the totals of my results from trying to obtain customers who are willing to pay for my services. The service I offer is that I get more customers for business to business small businesses. As part of this service I help them with their sales and marketing plan; developing the plan and then executing it. To understand better the service I provide go to my new customer generation page, which explains the process and everything I do in detail.
Totals
Total Number of Customers Generated (For My Business And My Clients) = 33
Total Marketing Costs = $7,388.77
Average Cost Per Customer = $223.90
Business to Business Industry Estimate = $258.00*
*calculated using figures from the report by HubSpot titled 100 Awesome Marketing Stats, Charts and Graphs, with the assumption that 50% of customers are generated from inbound marketing and 50% are generated from outbound marketing
Results - Average Customer Acquisition Costs By Marketing Method
Direct Mail = $536.58
Google Adwords = $319.67
Telephone Marketing = $312.11*
Attending Networking Events = $118.62
Website = $101.23
Visiting Targeted Businesses Door To Door = $17.83
Referrals = $10.24
Email Marketing = $6.00
*Assumes telephone marketers cost $11.00 per hour.
Key Insights
Email marketing once again tops the list as the best option when you look at straight cost per customer acquired. Email marketing is really every small business owner's best friend. The email and telephone marketing numbers are a little misleading though. The two actually work together as telephone marketing can be used to get emails. As a result you really need to add these two methods together. When you do this what you get is that the actual customer acquisition cost is $184.57. This is still well below the average of many other methods. Using email and telephone marketing together can be a very cost effective way to get customers. If you don't know how to get started with email marketing check out our FREE email marketing guide. You can also check out this guide from Aweber. They make it easy for people who are not tech savvy.
Visiting businesses also has worked for my business and my clients but I would suggest this will not work for your business unless you sell very high ticket items and have someone with lots of time to conduct this. In that number I did not include a wage for the time, so if you were to ad this in it would be probably the most expensive method. The real golden crown of new customer generation is referrals but the problem is that they are not easy to generate and it is hard to scale them the way you can with email. In conclusion I would say all of the methods are useful, assuming your customer lifetime value is worth more then the acquisition costs noted above. Instead of not implementing any one of these tactics I would recommend implementing them all but putting more dollars and focus behind the ones with a lower average cost per customer generated.
Other Related Article You Might Be Interested In
2. Dale Carnegie How To Win Friends
3. The Best Way To Close A Sale
My name is Chris R. Keller. I work at Profitworks Small Business Services helping various B2B small businesses in Waterloo and Kitchener Ontario generate new customers. If you are interested in generating new customers for your B2B small businesses enter your email in the box provided below and click the "Send Me Free Updates" button.
I hope this article on average cost per customer was a interesting to you. Thanks for reading. I love featuring guest author blog articles. If you are interested in writing a guest post on this blog to drive additional traffic to your website contact me and we can discuss further.