Want to know how to setup up a Google places page and get it ranking on page #1 for keywords relevant to your business? This this article by guest blogger Randy Kirk is for you. Read now to learn more.

Google Place pages are becoming more and more important for businesses. Not sure what a Google Place page is? Check out this picture below. Wouldn't you love to have your company show up like this for keywords related to what you sell? Continue reading this guest blog post by Rany Kirk to see what steps you should take to get a Google Place page for your business and increase its ranking within Google search.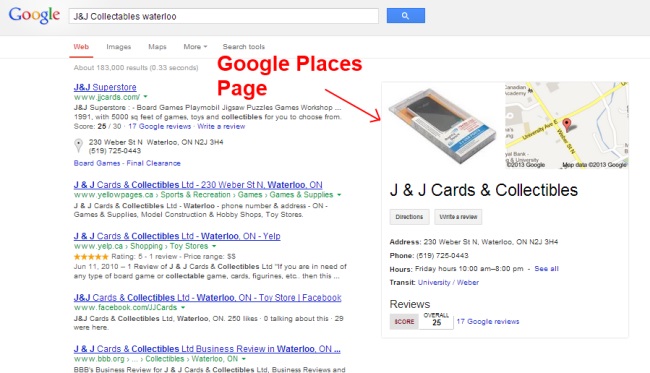 Executive Summary
Google Place pages and Google+ Local pages are powerful tools to generate website traffic, contacts from interested prospects and sales.
The steps to set up an account are
1. Claim your listing
2. Enter NAP
3. Fill in description
4. Select Category
5. Add pictures and Video
6. Mail Confirmation
7. Web Listings For Better Ranking
8. Website SEO
9. Get Up Google+ Local
10. Get Reviews
Learn The 7 Key Tasks To Increase Traffic To Your Website. Click Here For The Free Report.
Google Places doesn't even exist on the Google Search tool bar any longer. But at least for now, it still exists as the place for setting up your local business with Google. But as we continue through the transition, some new issues are increasing in importance as ranking criteria, while others are staying the same and likely to remain so. Here are the top 9 things you should be doing to ensure that you do rank on page 1, and that you don't get suspended.
If you would like to see possibly the best execution of this process that follows, check out my mortgage broker in Los Angeles client. You can find him by searching for mortgage broker los angeles. To see the results you get when you type in "mortgage broker los angeles" click here. As you can see from the results this independent broker is usually showing #1 or #2 among all the giants in the industry in L.A. As a result of the work on his Google+ page Bill has become one of the busiest and most successful brokers in West Los Angeles. When you ask Bill he will tell you it is because of Google Places and the work done on his listing.
Keep in mind what we are talking about below is for your Google places page (which shows up in google map seaches). There is also something called Google+ Local which shows us in Google+, which is explained at the bottom of this article.
1. Claim your listing
Create and/or claim your listing at places.google.com. Claim your listing by clicking the get started button and following the instructions. The other way you can claim your listing is by search for your business at https://maps.google.com and then clicking on your business in the results, clicking on the "more info" link beside your company name in the pop up box on the map and then on the new page it takes you to clicking on the "manage this page" button below the heading "Is this your business?".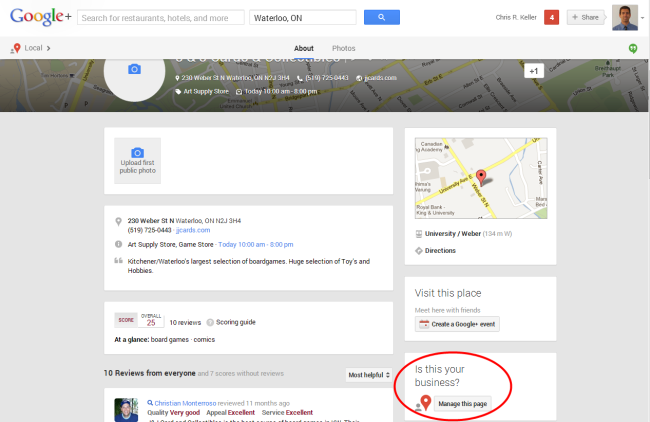 2. Enter NAP
Your NAP (Name, Address, Phone Number) is everything to Google. These need to be your real name, real address, and local phone number. You NAP should be exactly the same everywhere on the internet, including website, blog, social media, and other listings. If they are not, it will negatively affect how well your google places page ranks.
3. Fill in description
Fill in your 200 word description, keep in mind that this must not be spam. You will be getting a chance to write a longer, more interesting listing on Google+ Local. For this listing on Google places just give the facts. What do you do for your customers. Not your category, your city, or your business name. Those are shown elsewhere. However, you can include a basic category like lawyer or bakery and the region or county you serve. Don't even think about using any of those words twice though or it will negatively affect your ranking.
4. Select Category
Categories are going to change under Google+ Local and be more restrictive. You still have a chance to select anything you want (other than city) as categories on the Google Places listing form. That is, except for the first one. That category must come from the drop down list.
5. Add pictures and Video
Add pictures and video. Set up times and payment methods. Show your email and website. Fill in all the blanks if possible. The more relevant pictures, and videos the better your ranking will be.
6. Mail Confirmation
When you submit the listing, you will be told that a post card will be sent to you to verify your right to this address. The address will have a code which you will need to insert where shown on the dashboard for places.google.com. This will take around 10 days. Once you get the card follow the instructions on the card to enter the code which will set up the account.
7. Web Listings For Better Ranking
Now go set your company up on every other listing site you can find. YellowPages.com, Yelp.com (Yelp.ca in Canada) Manta.com, MerchantCircle.com and industry listings, too. You only need to create the free listings, do not sign up for the paid accounts as they are not worth it. You won't get a positive return on investment. These are called citations and help Google believe you are for real. The more citations you have the better your ranking will be.
8. Website SEO
You or your webmaster should review SEO (search engine optimization) methods used on your website. Make sure they are 2013 best practices. Make sure your NAP is on the home page and a contact page, and that they are readable (not flash) and identical to the listing. How well your website is search engine optimized will have an impact on how well your google places page ranks.

9. Set Up Google+ Local
When you get Google Places activated (by putting the code into the dashboard), you can now go set up Google+ local (which is the website plus.google.com and allows you within Google+ to search for local businesses). To create this page in Google+ Local go to https://plus.google.com/pages/create and follow the instructions.
10. Get Reviews
The key to getting a great Google Places page that will convince people to buy is having glowing reviews from your customers that other prospects can see when they go to your Google Places listing. Ask every happy customer you get to leave you a rating. Once you get to 10 your rating will show up in your listing, but the more reviews you get the higher your Google Places listing will rank. Get as many reviews as you can. If you want to learn more about this go here http://socialmediatoday.com/tmonhollon/894171/10-things-you-need-know-about-google-local-reviews
When Google Places was launched just two years ago in April 2011, I set up a blog that offered help to those who were confused by this new product. If you need a deeper understanding of these nine principles about optimizing Google Places or setting up Google+ Local, be sure to check out the blog at http://GooglePlacesHelp.blogspot.com
A special thanks to Randy Kirk for providing this information on Google places with the readers of the Profitworks blog. Your willingness to share your knowledge in assisting small business to compete against big business is appreciated.
My name is Chris R. Keller. I work at Profitworks Small Business Services helping various B2B small businesses in Waterloo and Kitchener Ontario generate new customers via our full marketing service solution. Feel free to connect with me on Google+ or if you are interested in getting new customers for your small businesses enter your email in the box provided below and click the "Send Me Free Marketing Insights" button.

Other Articles You Might Be Interested In
1. The Best Referral Program Ever - How To Get $50 Free For You And Your Friends
2. The Importance Of Adding Content To Driving Website Traffic
3. Small Business Marketing - 5 Key Components
4. The Marketing Methods For Small Businesses With The Best Return On Investment