Email Marketing Ideas - 7 Ideas & Examples
It is difficult to find email marketing ideas unless you are subscribed to numerous lists and you have the time to wade through the countless emails to find some good examples you can make use of. That is why we decided to do the "wading" for you. In this blog article and podcast, we are going to introduce you to out top 7 favourite emails and let you know how they could be effectively used in your next email campaign. These should not all be used together on every email, but instead, each one has its own unique purpose. We challenge you to take one of these ideas and use it for a month and see what kind of results you get.
Profitworks provides SEO services and Email Marketing services. If you are new to email marketing or are unhappy with your current email marketing system, check out the Profitworks Free Guide To Starting Email Marketing for help. It includes answers to the most common email marketing questions and challenges, reviews of leading email software providers, and easy to follow instructions to get you started.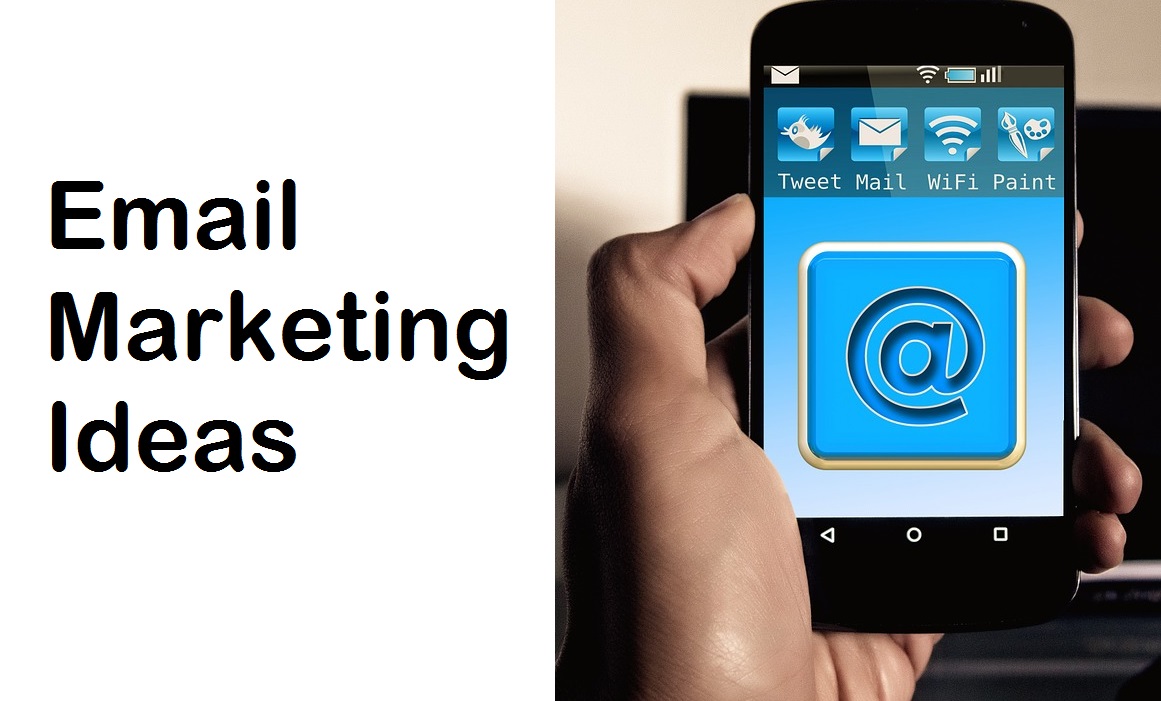 Executive Summary
Email marketing is still one of the most cost-effective marketing methods, generating 40 times the potential customers and 3 times the purchases of social media networks. It can help your business build credibility and relationships with your customers and increase your sales. In this post, we will show you 7 excellent examples of effective emails and how they have used techniques such as:
a sense of urgency
speaking like a friend
gentle pleas
offering special bonuses
using emojis
building brand loyalty
choosing topics that people care deeply about.
Click the button below to download our FREE Guide To Starting Email Marketing!

Email Marketing Ideas - 7 Ideas & Examples
We've compiled a list of 7 excellent email examples and have analyzed what is effective about each one. These include stressing a sense of urgency, speaking like a friend, gentle pleas, clear valued bonuses, emojis, building brand loyalty, and choosing topics that people care deeply about. We encourage you to implement any or all of these ideas in your upcoming email campaigns. If you would like more help getting started, click here to get our FREE Guide to Starting Email Marketing today. These should not all be used together on every email, but instead, each one has its own unique purpose.
#1. Sense of Urgency - Best Buy
Best Buy is the leading specialty retailer in the US consumer electronics retail industry. They must be doing something right. So why not learn from the best? Here is an email received a few days ago that caught my eye. They have definitely captured a sense of urgency by using this nifty countdown timer to signal the end of their sale. It's big, it's bold, and it makes you want to act because your time is quickly running out. The exclusivity of a flash sale creates excitement and a sense that if you don't do something right away, you may miss out. That's what you want from your email - to get your customer to act and to act quickly.
Takeaway Action: Marketing emails should be written to be urgent.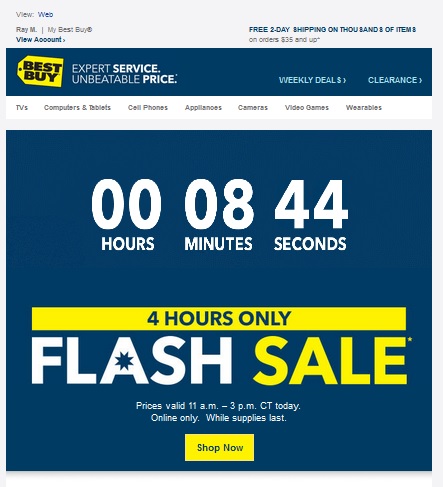 #2. From a Friend - Blogilates
This email newsletter seems like it is coming from a friend. When most emails sound like they have been churned out by a robot, this one instead is warm and friendly. It's effective because it makes the reader feel like they are part of an inner circle of close friends. It goes a long way in building rapport with the customer. In addition, it includes a lot of helpful extras. The unique exercise video has a twist - it caters to apartment dwellers who don't want to annoy their neighbours with a noisy workout. I'm curious to find out how that works. Then a little pep talk encourages you to click on to the website for more encouragement. If that's not enough, it even includes job opportunities. Who wouldn't want to work for this organization? Finally, there is one last gentle reminder to do the daily workout videos and it's personally signed with a heart!

#3. A Gentle Plea - Drop Box
You might wonder why I would choose to highlight an email for a product that I'm obviously not using. Well, Dropbox has successfully made me want to move my files there with their catchy subject line, "Your Dropbox is lonely. Add some files." The unassuming, non-pushy approach actually made me feel a little bit sorry for my empty Dropbox. It sounds absurd, but I really like this gentle tactic. The email is short and sweet with a delightfully simple cartoon image and does a great job at letting me know about the existence of Dropbox services. It might benefit however from the addition of some type of incentive such as a limited time offer in order to start using it again.Try this gentle approach to catch your client's attention.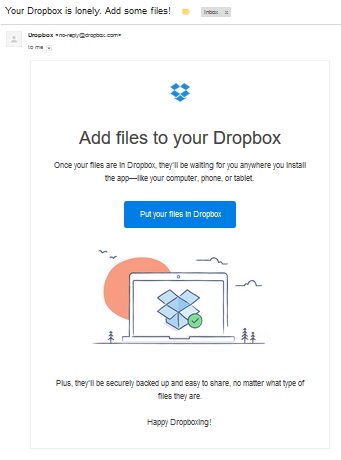 #4. Special Bonus Offer - American Express
According to creditcard.com, American Express is clearly one of the major credit cards in the US. They obviously see the value of email marketing. With this recent campaign, they have used a bold black background and whimsical cartoon to grasp your attention. It's simple but the message is clear. Do you want to earn 25,000 Welcome Bonus points? And they answer that question for you - Yes. It's right there in black and white. Of course, you want it. And if you are still not convinced they give you the real value of the points, so there is no guessing as to whether this is a good deal or not - $250. That is a great deal for simply applying for a credit card and one that also has no yearly fees. Your customers want to know the real value of a promotion and if it's going to cost them anything. Show them the real value and they will act upon it.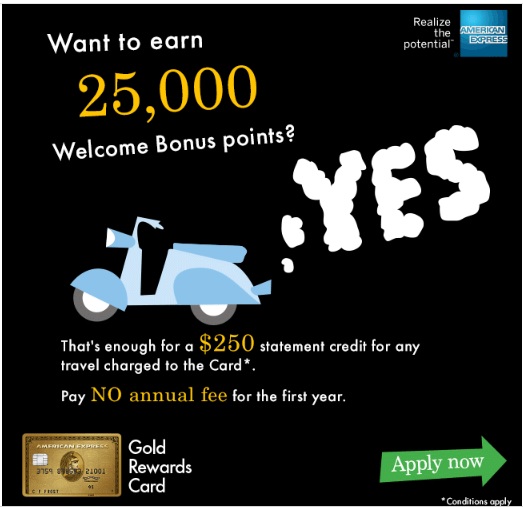 #5 - Emoji Your Subject Line - YouVersion, La Senza, Victoria's Secret, & Checkout 51
Make your email subject line stand out from the crowd of dull, plain text subject lines. Give it some life and colour by adding an appropriate emoji or two. With the countless emails competing for the attention of your customers, make sure that yours gets clicked on. Adding emojis will especially appeal to the millennials in your target audience. Your emails will stand out from the rest with the clever use of emojis.





#6. Build Brand Loyalty - Uber
Uber has become a master at developing brand loyalty. From their emails to their app, website, and social media platforms, their designers consistently use bright colours, clean lines, and geometric patterns. There is no guesswork needed to recognize who they are. Coupled with that, they have paired up with another popular website, hotels.com, to bring you a guaranteed prize of $30 towards a hotel booking when you take a ride. They have also added an incentive for repeat business by giving you a chance to win an even bigger prize with each additional ride you take. Try this technique to build your brand loyalty.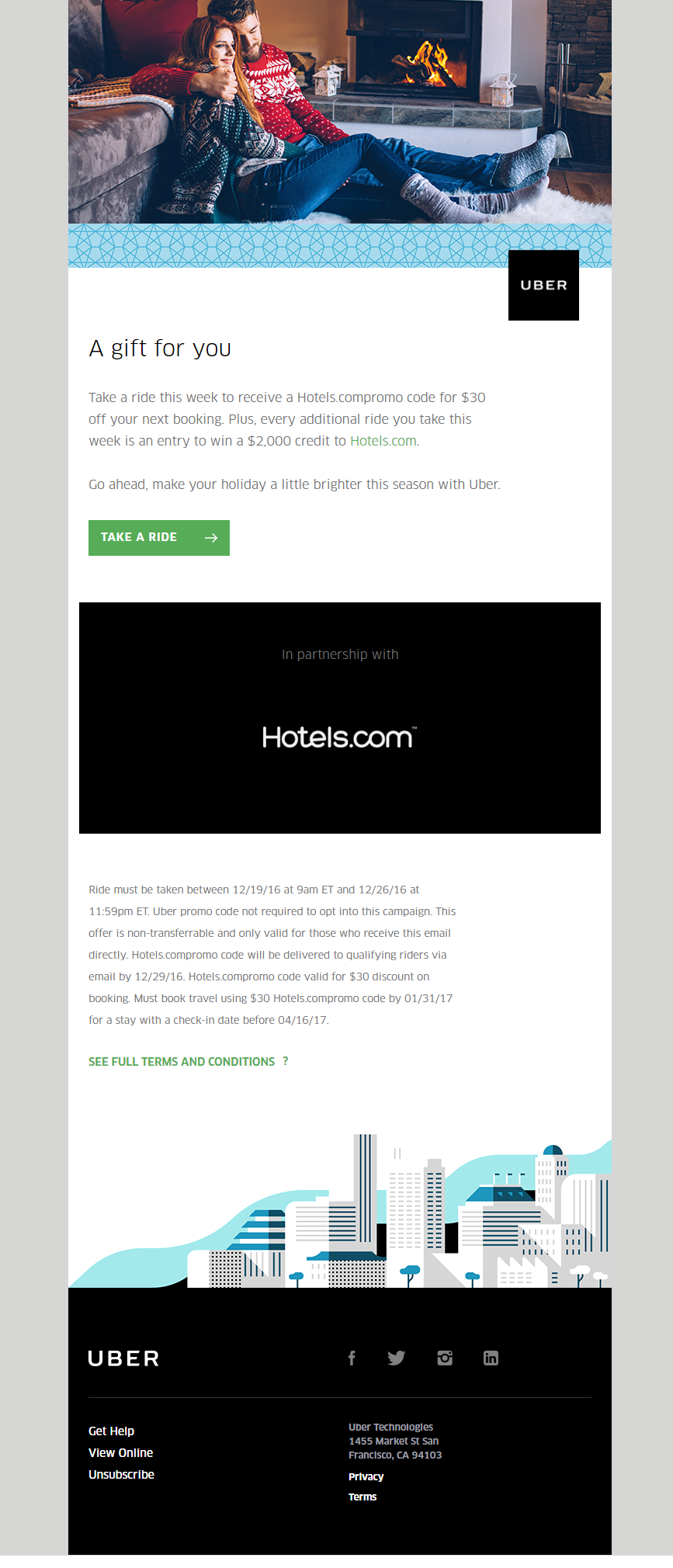 #7. Hitting Home - PC Financial
PC Financial has done a great job at choosing a subject that "hits home" - the safety of you and your family. Choosing a topic that resonates with your customer base and gives helpful and pertinent advice about topics that are meaningful to them will not only get them to open and read your email but also go a long way in building trust and rapport.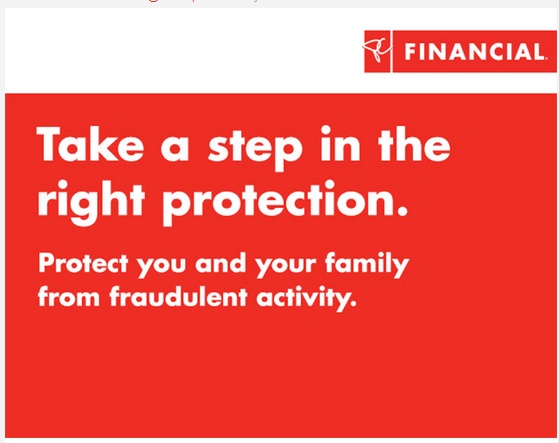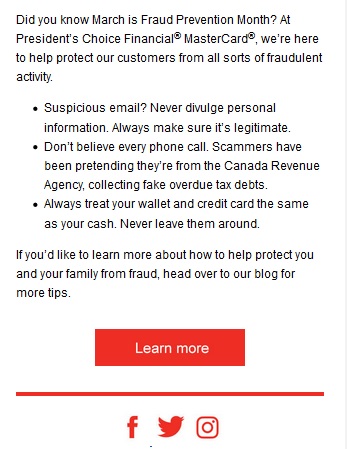 Why Do Almost All Market Leaders Use Email Marketing? It Works!
According to McKinsey & Company Marketing and Sales, email marketing is almost 3 times more effective in acquiring customers than using Facebook and Twitter combined. In addition, the average purchase generated by email is 17% higher than the purchases from social media networks. Market-leading businesses have found that email marketing is a cost-effective way to meet with their customers in a location they visit every day – their email inbox. We challenge you to take one of these ideas and use it for a month and see what kind of results you get.
Email marketing can help your business grow because it:
Strengthens Relationships: Email is an effective tool to help you communicate with your customers and keep you in the forefront of their minds. People are more likely to buy from someone they know and are in contact with.
Builds Credibility: By sharing helpful and informative content, your emails can increase your credibility with your customers.
Generates Sales: Every customer is valuable to your business and finding new customers is important. Not everyone who signs up for emails may be ready to purchase, but your emails will help you capture a potential customer's attention and grow a relationship with them so that when they are ready to buy, your business will be foremost in their thoughts.

"The importance of Website Optimization in today's competitive market is critical for the growth and development of any company. We engaged the experts at Profitworks to develop an engine-friendly website, and are seeing the results of an increase in sales from customers who "found us on the web"." - Cathy (Business Owner & Customer)
Click here to learn more about us!
Do you feel you want to build your online presence but you're not quite sure where to start? Here at Profitworks, we offer a FREE website review for anyone who would like to have one, no strings attached! Click the button below to get started today!
Profitworks provides SEO services, website conversion optimization services, and email marketing services with a focus on making our customers the leaders in the markets they operate in.

Become The Leader In Your Market
Other Articles You Might Be Interested In
Sources
10 Reasons To Use Email Marketing As Told By Small Businesses
16 Examples of Awesome Email Marketing Campaigns