The top marketing channels for the best percentage of high quality leads are trade shows, events, email marketing and referral/advocate marketing. When you look at which methods also have the best return on investment the best methods are referral/advocate marketing, email marketing, events, and search engine optimization. Marketing can be done through a wide range of channels/methods and there are various tactics for each channel that will all yield different results based on many different factors. This article and podcast will provide insights into which marketing channels/methods are on average the best for a business to use. The information in this article is based on Profitworks' experience providing marketing services to our clients, as well as various third-party studies that have been done on the effectiveness of marketing channels.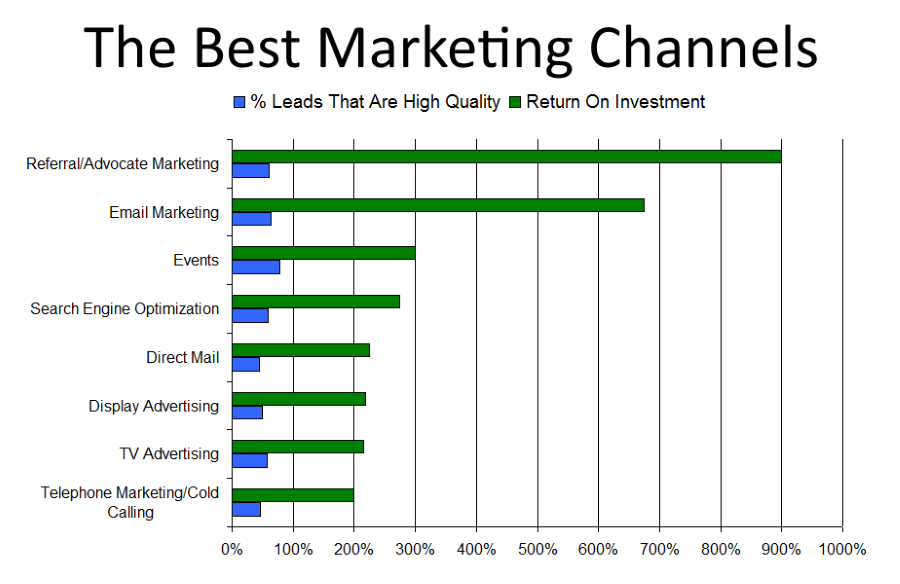 Sales & Marketing ROI Podcast: Episode #29
Marketing Methods and Channels That Generate the Best Quality Leads - overview and analysis of various marketing methods with conclusions as to which methods provide the best quality leads that can be converted into sales.

Subscribe our podcast now - click here
View a full listing of all our podcasts - click here
Marketing Channel Quality of Leads and Return On Investment
The following chart shows the quality of leads and ROI for many of the most popular marketing methods. The chart is sorted by quality of leads:
Notes: 
1. Quality of leads is defined as the percentage of leads that survey respondents referred to as "very high quality" or "high quality", meaning that they are a good fit for the business and very likely to purchase from the business.
2. The top three channels for "very high quality" leads were Trade Shows & Events at 27%, Search Engine Advertising at 22%, and In-House Email Marketing at 21%.
3. Return on investment is measured as [(Additional Profit From Marketing - Cost Of Marketing)/Cost Of Marketing] where additional profit from marketing equals [Revenue x Contriubtion Margin - Variable Costs]
Sources:
Quality Of Leads = http://www.softwareadvice.com/resources/demand-generation-benchmark-report-2014/
Return On Investment = http://www.profitworks.ca/blog/455-marketing-return-on-investment-what-is-a-benchmark-average-and-what-marketing-methods-have-the-best-roi and our own internal tracking
Profitworks Recommendation: Referral/Advocate Marketing, Events, Email Marketing and Search Engine Optimization
There is no singular marketing solution that will work for all businesses. However, there are marketing methods that will work for a large percentage of businesses and will drive high quality leads and high ROI. The above charts are averages, in order to determine which marketing methods will deliver the best results for your business you should consider the information above, create a marketing plan and test various marketing methods until you find the ones that work best for your business. Although direct mail is shown as the worst method here, we have one client for which direct mail is the 2nd best marketing method. What marketing methods will be best for you all depend on your business, the market you are in, your marketing plan and the tactics for each channel that you implement. 
Referral/Adovocate Marketing
The power of referrals is unmatched in the marketing world. Customers trust their peers and existing relationships more then they will trust any external marketing. As such, referrals and advocate marketing remain the number one method to generate new sales.
Events
Taking part in or speaking at events has been proven to bring in a large number of high quality leads for businesses. Events and shows bring in a very specific audience, many of which are ready to purchase goods and services. By getting involved in an event, a business gets a lot of exposure to their target audience and also has a means to put marketing material in that audience's hands. 
Trade shows are very similar to events. They do generate high quality leads but it has been our experience that they are very costly and the number of leads they generate is low when you compare it to the costs. Often trade show fees and booth construction or rental costs are high, which brings down the return on investment. For this reason we recommend events as one of the top 4 marketnig channels and do not include trade shows in the top four. 
Email Marketing
Email marketing has a poor reputation, but it still exists for one simple reason: it works. Email marketing has been proven to bring in new sales with only low-minimal effort and costs compared to other marketing methods. Profitworks offers a wide range of email marketing solutions that are unintrusive and beneficial to increasing sales from new customers as well as increasing sales from past or current customers.
Search Engine Optimization
Search engine optimization has the advantage of long-term results that take minimal cost and commitment. A budget of only a few hundred dollars per month spent on SEO can re-vitalize a website and make it bring in hundreds or thousands of extra visitors per month. Those visitors can then be turned into sales.
Get A Free Review Of Your Website From One Of Our Website Conversion Experts
Complete With Our Top 5 Recommended Changes Specific To Your Website To Improve Sales
Profitworks Small Business Services provides website traffic and website conversion optimization services which increase the number of sales generated from a website. The focus of our services is on increasing sales and providing a positive return on investment. To learn more about Profitworks, click here. 
Improve your website today. Download our report on The 7 Key Tasks To Increase Website Traffic.
Other Articles You Might Be Interested In
1. How To Increase Sales From Your Website
2. Is Search Engine Optimization Worth The Money?
3. Social Media Marketing Services - The Top 7 Reasons Why to Spend That Money on Local SEO Services Instead
4. SEO vs PPC - Why SEO Gets The Better Return On Investment