Profitworks is proud to present the following guest post. Contact us today for all your SEO needs.
About The Author:
Natasha Ponomaroff is the Senior Marketing Director of Instasize – a content creating toolkit for anyone editing photos and online content on mobile. A weekly contributor on the site's blog, Natasha tracks social media trends and updates the millions of "creatives" who are currently using Instasize to curate awesome online content. When she isn't writing up the latest trend, Natasha is overseeing a team of 10 over at the Instasize HQ – ensuring that the marketing content on the apps various social platforms is ready to go.
5 Creative Ways to use Instagram for Brand Promotion
If you have an Instagram business profile, you can post ads on Instagram. In fact, Instagram currently has over 2 million advertisers and 25 million business profiles!
With so much competition, it can be difficult to make your brand stand out. Let's check out five creative ways Instagram can promote your business!
1. Tell Stories
If you have an Instagram profile, you already know about the Stories feature. Stories are a versatile advertising tool with immense creative potential. They feature full-screen images with no captions and no algorithm hierarchy. Stories sit at the top of the app allowing viewers to scroll through each one individually. Making a unique Instagram story is simple and exciting, here are a few tips:
Offer something different

: Show sneak peeks or "day in the life" glimpses to make your Stories content feel special.

Focus on a narrative

: Like any other storyline, your Instagram Story will be better with a beginning, middle, and end. 

Be informal

: Stories tend to be more intimate than other content. Show your brand's 'human side' by posting videos of community engagement, notable staff achievements, or celebrations.

Try a takeover

: Ask a savvy staff member, or even a loyal customer, to take over your account for the day. If you are well connected, work with a

recognized social media influencer

and watch your brand recognition explode!

Foster Engagement: Ask your audience to vote on their favourite products or participate by casting their opinions via the "like" or "comment" buttons. It's a simple way to increase interaction and doesn't take much effort.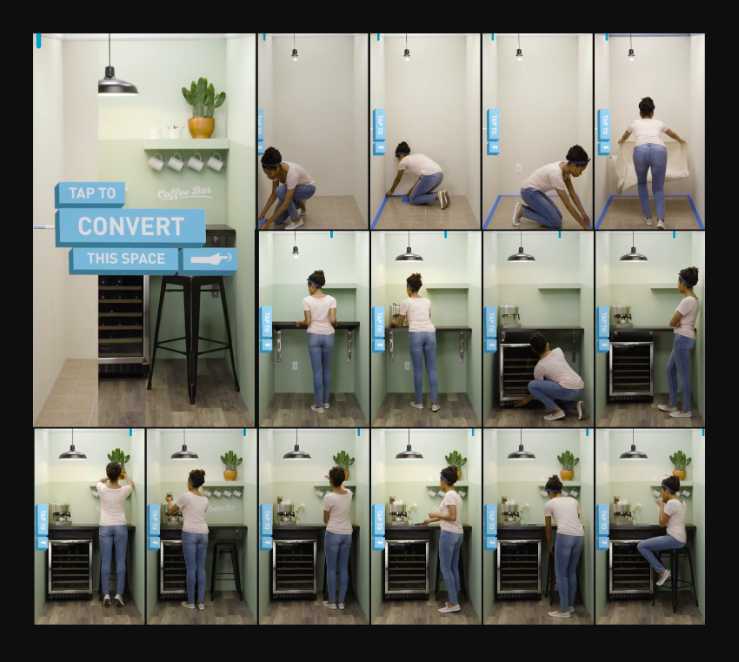 Instagram stories help connect with the user.
Image Source: https://delmondo.co/22-insanely-creative-ig-stories-from-brands/
2. Host a Hashtag Contest
One of the fastest ways to build your Instagram following and generate new business leads is by using an Instagram hashtag contest.
An Instagram contest persuades new people to 'Follow' you while increasing brand awareness by having entrants share the promotion with their own networks.
What makes them so effective?
A hashtag allows you to promote a specific campaign and/or introduce a new and exciting product/event/service 

It requires little effort - the hardest part is simply coming up with a hashtag theme

You get rewarded with engaged followers, and the winner(s) might get to try out your products for free
Hashtag contests are pretty intuitive but it might be a good idea to check out some examples and best practices.

Hashtags generate brand awareness.
Image Source: https://delmondo.co/22-insanely-creative-ig-stories-from-brands/
3. Answer Questions via IGTV
If you are receiving questions from followers and customers about your products, try answering them via Instagram TV.
IGTV is a new feature that allows you to post long-form, vertical video content. The creative possibilities for customer inquiries using IGTV are endless: 
You can record yourself talking on video, as

Condé Nast Traveller

's editor-in-chief did, or ask your staff to take turns answering questions with their own unique flair

Create text images for people to read as an alternative to recorded talking

Ask followers to post their questions as a comment on one of your product photos so you can answer in IGTV.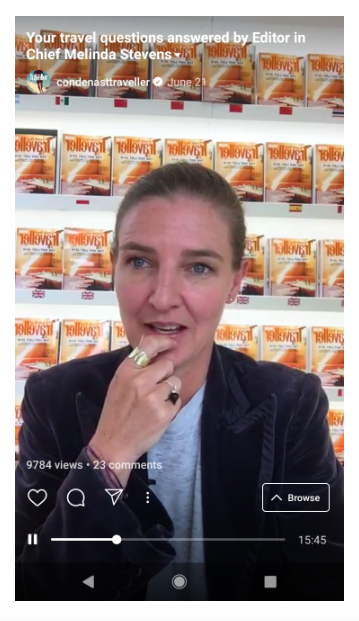 IGTV can be used to answer user questions

Image Source: https://www.instagram.com/condenasttraveller/?hl=en
4. Animal Influence
If you have a rabbit, iguana, or are visiting troupe of bonobo apes at a zoo, feature them solo or alongside your staff members and products.
In terms of attention grabbing, hardly anything can compete with animals, except for maybe babies. Animals will lighten the mood of your post and capture attention effortlessly. Test conventional and experimental imagery while keeping it safe, respectful, and harmless:
Showcase a dog inspecting/playing with your latest pet-friendly gadget or eating your brand's dog food

Record fish swimming in an aquarium and cast yourself as the voice-over actor

Ask your staff members to participate in a 'dress up as my pet/owner' day at your office
Even though animals are pretty much universally appealing, make sure your images are crisp, professional, and stunning by using a photo-editing app. Editing apps let you edit composition, lighting, colour and more, guaranteeing that your photos get the attention they deserve.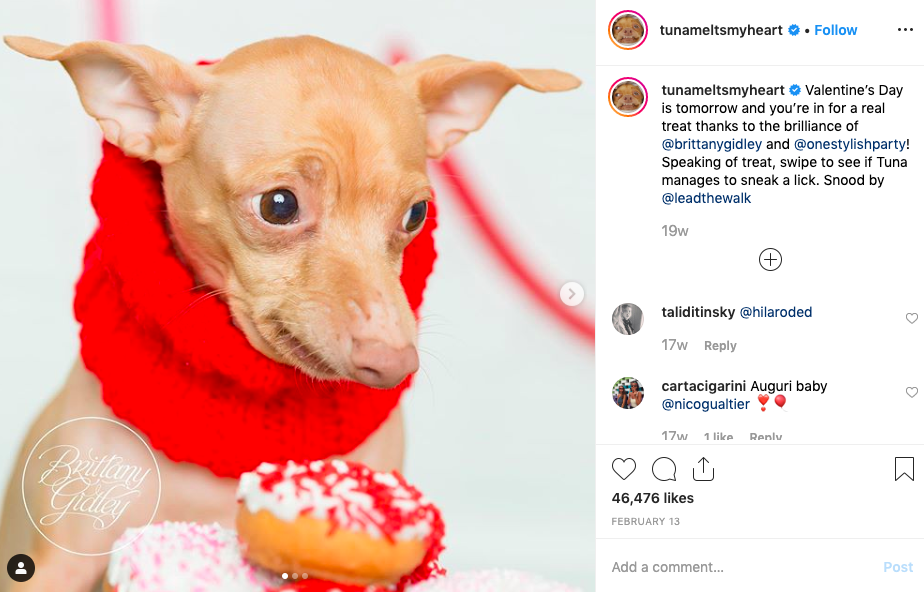 Everyone loves Instagram animal stars!

Image Source: https://www.instagram.com/tunameltsmyheart/?utm_source=ig_embed
5. Colour Coordinate
Consistency is an integral component of your Instagram marketing strategy. Uniformity might mean the use of your brand's colours or one filter applied to all of your photos. With Instagram, you can choose a simple or a carousel-style ad based on a simple but effective colour combination or, you can design your own colour aesthetic unique to your business. Adding or enhancing the colour of your ads is a powerful marketing move. Review the psychology of colour before you start!
Discover the important of Search Engine Optimization With Profitworks!
As thousands of brands jostle for attention on Instagram, innovative marketers embrace the challenge and succeed. Research, a spark of imagination, and the desire to create a lasting impression is the key to IG marketing success.
So, what are you waiting for? Put your thinking caps on and connect with your audience!
You can also download the Ultimate SEO Checklist from Profitworks by clicking below! We can provide SEO and Facebook advertising services to help your business grow.