The benefits of social media and how you should use it to engage with your customers is probably not what you think. Click and read this article now to learn what the real benefits of social media are for your business and how to best utilize it to gain new customers and grow sales.

Executive Summary
- social media is not naturally a good lead generation or sales driving marketing method
- social media is naturally effective as a reputation management tool, market research/product feedback tool and awareness building tool
- social media is naturally most effective at generating awareness within the purchasing decision process
- social media can be intimidating but with very little time and effort any small business can become comfortable using it
- any businesses that uses social media will be able to generate benefits by doing so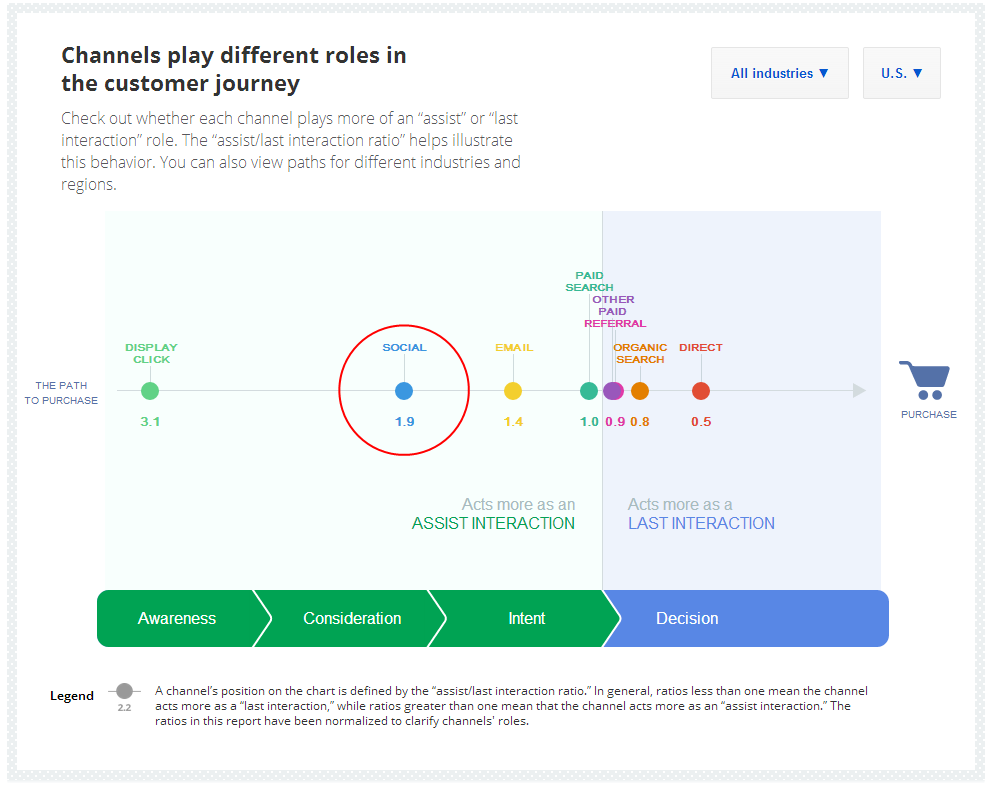 Source: http://www.google.com/think/tools/customer-journey-to-online-purchase.html
An Overview Of Social Media
Shockingly enough, despite the inherent benefits provided by multiple platforms like Facebook, Twitter, LinkedIn, Pinterest and YouTube (to name a few), very few businesses have a social media presence. As such they essentially turn down free advertising, consumer feedback, and real-time business research & development. In addition many of the businesses that use social media do not utilize for what it is most effective at and try to use it to do things it is not effective at.
Social media largely impacts a prospect to move them along the purchase decision from not aware, to awareness and maybe into the consideration phase. It usually does not move them to the point where they intend to purchase or usually help them make a decision to purchase. As you can see in the graph above other marketing methods are usually the ones that convince people they need to buy and to make the actual purchase from a specific company.
Perhaps more small businesses would entertain the idea of social media if it was not for the vast landscape of different, platform, features and elements, which would drive an already stressed business owner up the wall. With so many things to learn social media can seem like a daunting task to many small business owners. For the small business owners that do use social media many of them try to utilize it as a sales driving mechanism. It is very difficult for social media to be an effective medium to drive sales and be a source of new customers by itself. What social media can very easily do is improve the reputation of your company, collect valuable feedback on your product and service from customers and prospective customers and raise awareness for your company via social discussion and interaction. If you understand what social media is naturally effective for social media is actually quite easy to implement for any business. It may take a little bit of time to learn how it works but if an individual takes a little bit of time to practice they will quickly overcome the learning curve.
The following doesn't just tout the entry into the world of social media but shares how businesses can use the platforms to grow their brand and profits by leaps and bounds:
#1: Reputation Management
Reputation is the body of beliefs and/or opinions that are generally held about someone or something - - in "Web" lingo we like to apply this to business elements like the brand, products, or service.
The reason for this mention is that people flock to social media to share their opinions (good and bad) about anything and everything that's on their minds. One minute they'll praise a product because they've found it valuable and the next they're trouncing a company for poor customer service.
The swing of social media can become the triumph of a brand or lead to widespread chaos in the market and it's this reason that reputation management has become a major element of having an online presence. Having a strategy to keep up with reviews and comments, both negative and positive, on platforms like Facebook is critical for your business.
Reputation management, at its core, is about keeping tabs on what people say about your online presence; it can be done through a manual process of using search engines to inquire your name and branded products/services, use of social media tools like SocialMention.com to dig through the social sphere.
In all, keeping up-to-date with consumers that share their opinions about your business will allow you to connect with the individuals to increase engagement or fix a serious problem, such as a bad experience, before it gets too out of hand and engrosses your positive message.
#2: Tune-In for Valuable Feedback
Interestingly enough - - the same tools you would use for reputation management are the much of the same you'd use to gain feedback from customers.
As noted: individuals use social platforms to share their opinions and experience with companies (perhaps even yours). There is no better example of the powerful benefits of social media engagement than feedback. Feedback from your customers may come from any channel but the message provides the same value:
- learn how you can improve your customer support via addressing concerns individuals had with reaching your business and its employees
- track & reward individuals which praise your products & services in an attempt to nudge them to continually promote your work
- analyze and research ideas and suggestions provided by the community for product/service revisions or entirely new product launches
The fancy new word we have for this is crowdsourcing, which taps into the community to provide feedback, designs, revisions, and funds for improvements to what you have to offer (because they love what you provide and want to be part of the process).
You can then use this information to improve your product making it more attractive to your target market. In addition you can collect feedback to determine what is working with your existing marketing so that you can ensure you incorporate more of these successful tactics into your future activities.
#3: Starting a Buzz about the Brand
Not to go without mention: social media engagement improves the chances that you can build a buzz around such items as a product launch, company milestone, or up-coming sale.
Social media is a great place to get the customers talking through a variety of means:
- conduct a giveaway through Facebook that requires individuals to leave a comment, like, or share the update
- create and share a simple Twitter update that users can retweet about a new revision to your existing products or services (helping spread the word)
- give an inside glimpse behind-the-scenes about a new product in development through a slow release of blog updates that will get the community talking and speculating what's to come
Social media harks back to what a business would have done through exhibitions, dropping flyers, holding a conference, running TV advertising, and the gamut of marketing methods of old except those same benefits of running types of campaigns are now transformed into a digital format.
In essence: same benefits, different platform.
It's through the engagement of the customers (and community) that allows for massive buzz to build around a milestone in your business; capture the audience and they'll work wonders for your bottom-line.
They Speak, You Listen
Business, for the most part, has always been a one-directional flow of message. Consumers, for the longest time, had been bombarded with advertising and marketing messages with no real platform to share their experience or opinions outside of their inner circle of friends.
Today, however, businesses have the added benefit of the Web which offers a free platform for both marketing & reputation building and interaction with customers; it's finally become a two-way message system that allows all business (big and small) to grow by leaps and bounds if they attune their ears to what consumers have to say. Social media is best utilized not as a lead generator or sales driving vehicle but instead as a reputation management tool, market research/product feedback tool and awareness building tool.
A special thanks to Sam Peters for submitting this article to the Profitworks blog. She is an avid blogger who loves marketing.  Sam resides in sunny San Diego, California.  If she is not writing, you can usually find her relaxing with a good book. Thank-you again Sam for this contribution. If you are interested in writing a blog article for our blog pleaseThis email address is being protected from spambots. You need JavaScript enabled to view it. via email at This email address is being protected from spambots. You need JavaScript enabled to view it..
Please provide us with your thoughts on how this blog can be improved or what article topics would be most interesting to you. Email us at This email address is being protected from spambots. You need JavaScript enabled to view it..
My name is Chris R. Keller. I work at Profitworks Small Business Services helping various B2B small businesses in Waterloo and Kitchener Ontario generate new customers via our full marketing service solution. Feel free to connect with me on Google+ or if you are interested in getting new customers for your small businesses enter your email in the box provided below and click the "Send Me Free Marketing Insights" button.

Other Articles You Might Be Interested In
1. The Best Referral Program Ever - How To Get $50 Free For You And Your Friends
2. Using Social Media Contests To Boost Customer Referrals
3. How To Use Facebook To Advertise Your Business - Learn Now!
4. Small Business Owner Tips - Should You Be On Social Media?