In this article we take a quick look at what kind of ROI companies are seeing from various social media sites including Facebook, Google+, Twitter, Linkedin and Youtube.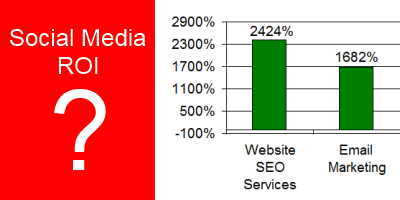 Executive Summary
Disclaimer: The data provided in this article is from a cross section of business to business focused companies which our are clients. Results may be different for business to consumer companies.
- spending money and resources to comment on Facebook, Twitter & Google+ and creating videos for Youtube has a negative return on investment
- social media is effective as a customer service/support/feedback tool, reputation management tool, market research/product feedback tool and awareness building tool
- the best approach is to have valuable content created and then shared on social media sites
- the best return on investment marketing you can do is marketing to your existing customers
- the best return on investment marketing to generate new customers is to improve your product quality to a point where it wows your customers and they refer you
- the next best ROI marketing initiatives to generate new customers is website content creation and email marketing
A Look At The Numbers.....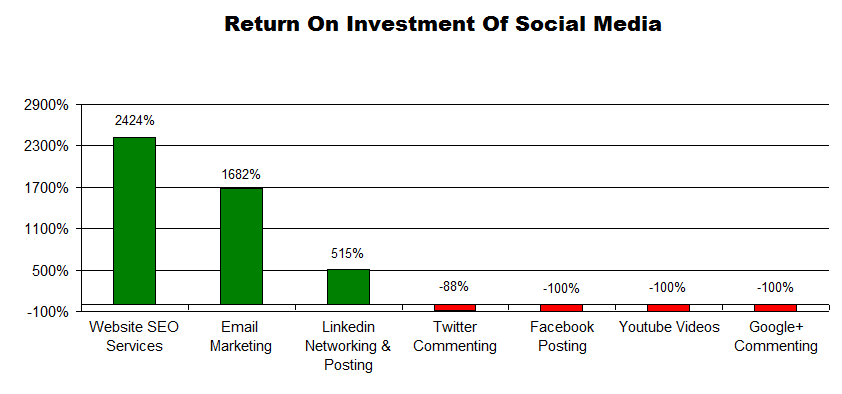 Existing Customers
Marketing to your existing customers is almost always going to have a better ROI than marketing to new prospects because your customers are already aware of you and know a little bit about you. In the purchasing decision process have the battle is getting people to be aware of your company and understand what you can offer. When you do marketing to existing customers this battle is already half won. Probably the best return on investment we have seen to date from any of our clients is simply spending the time and resources to call and arrange meetings with existing clients to review their needs and propose additional products or services and that help achieve the customers goals. This is incredibly simple but it works and not many companies do it. The other tactic that we have seen generate great return on investment with existing customers is email marketing. (To learn more about how to successfully do email marketing click here). If you don't have an email marketing solution provider I would recommend you us Aweber (to go to their website click here).
New Customers
The best results we have seen for generating new customers is from offer selling excellent products or services that wow the customers. This results in happier customers and more referrals and referrals are almost always the number one source of new customers for small businesses. We would always recommend first investing to research how your product/service could be improved to wow your customers and then investing to do that. I think you will see if has by far the best return on investment.
What we are finding is the best way to generate new customers for our clients out side of improving their product or service is through website SEO and content creation activities, email marketing (To learn more about how to successfully do email marketing click here) and networking on Linkedin. Since over 90% of business to business buyers start their buying process with an internet search, website content creation and SEO is an effective way to capture new customers. To read more about the importance of creating content for your website click here. Email is not far behind because it is so inexpensive, that with the right strategy it can have a great ROI. We have also seen some clients successfully use Linkedin to connect with people by talking with them in discussion groups or sending them an invite to connect. They then follow this up by sending the information links that would be useful to them and asking for a time to meet.
Real Social Media Experts & Their Recommendations
There are two people that I have come across that appear to have an effective strategy for Social Media that delivers a positive return on investment. There are a lot of people that say they are social media experts.....not many of them have actually seen a positive ROI from their work. These two guys have. They have actual sales and profit data to back up their social media strategy effectiveness.
Patt Flynn
Summary Of Strategy:
Be Everywhere. Be on all social media websites and use them to interact with customers as a customer support, market research and feedback tool asking customers a prospects questions, responding to questions, sharing information and giving free instructional videos.
Results:
It is unclear what the exact ROI is for this work on social media but social media plays an important role in his marketing strategy and he has been able to grow his sales by 70% over from $7,6906.55 a month to $53,774.47 a month. During this time he has made about 85% profit margins.
Website: http://www.smartpassiveincome.com/
Frank J Kenny
Summary Of Strategy:
1. Focus on content creation and sharing that great content through social media, using social media as a way of networking, not advertising
(Great content creating is more important than high levels of activity on social media, do not try and sell your products over social media)
2. Share content on social media that educates, entertains and inspires
3. Give gifts, be generous
4. Take advantage of sociological laws
A. Law Of Reciprocity - If you give people things of value they will feel indebted to you and be forced to give you something of value in the future (like their money to buy your product or service).  So give away things of great value for free on social media
B. Law Of Consistency - People will almost always act consistently. Therefore get prospects to commit to a low risk commitment and then ask for a larger commitment that is in line with their previous smaller commitment. The example he gives is of a study that was conducted where they asked people to put a billboard on people's front lawns asking people to drive slow for the safety of children. When asked almost all respondents said no. Yet when they asked people to put a small sticker with the same message on their front door they got almost everyone to agree. No with this same group when they returned in a few months to ask if they would be willing to place a billboard on their front lawn since they supported the cause (as shown by the sticker on their door) about 95% said yes.
C. The Ben Franklin Effect - Those that have done you a kindness will be much more likely to do you a kindness again. If you ask someone to do you a small favor they will be more likely in future to do you a favor on their own or when you ask them again (so long as you continue to treat them well).
Results:
Using his approach Frank doubled sales and profits in a year for the local chamber of commerce he used to be the president of using social media.
Website: http://frankjkenny.com/
My name is Chris R. Keller. I work at Profitworks Small Business Services helping various business-to-business, small businesses in Waterloo and Kitchener Ontario generate new customers via our full sales & marketing service, our website traffic and sales service and our marketing plan services. Feel free to connect with me on Google+ or learning more about Profitworks by visiting our Google+ Page. If you are interested in getting new customers for your small businesses enter your email in the box provided below and click the "Send Me Free Marketing Insights" button.
Other Articles You Might Be Interested In
1. Impact Of Number Of Words In Subject Line On Email Open Rate
3. The Marketing Methods For Small Businesses With The Best Return On Investment
4. Best Email Marketing Newsletter Design To Maximize Click Through Rates