I was very surprised by where I came across this marketing strategy. I was not expecting it at all. I did not even realize it until about a week after it had happened and I decided to purchase from this company again. Then I knew that it works, because it was working on me without even initially noticing it. Listen to the podcast below to find out what this marketing strategy is or click here to create your own marketing strategy.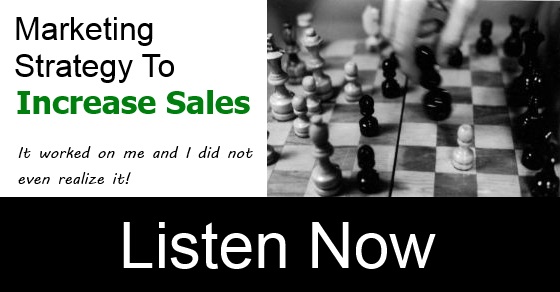 Get Sales & Marketing Insights To Grow Your Business

Executive Summary
- one simple marketing strategy worked to make me buy
- this same strategy has resulted in me deciding to exclusively buy from this company in the future
- this same strategy made me tell my friends and family about the company
Sales & Marketing ROI Podcast: Episode 2
Listen to this podcast to find out all the details on the best marketing idea I have seen in the last year.

Subscribe our podcast now - click here
View a full listing of all our podcasts-click here
The Break Even On This Marketing Strategy Example
Even though I don't have the data to be able to calculate the ROI for this program I can calculate an estimated break even with some basic assumptions.
Cost = $30 (usually mechanics charge a minimum of $60.00 for this kind of thing and Kevin charged me $30)
Additional Revenue = $2,400.00 (over then next 3 years we will probably send on average $400.00 per car per year and my wife and I have 2 cars)
Contribution Margin = $600.00 (assuming a contribution margin of 25% since they keep their prices low)
3 Year ROI = 1900%
A not to bad ROI in my opinion!
If you liked this article please head over to Linkedin and endorse me for "Marketing Strategy" If you would be willing to do this for me it would be a great help.
Improve your marketing today. Download our marketing plan template and improve your marketing results.
Profitworks Small Business Services provides sales & marketing services which obtain new customers for our clients. We focuses specifically on being transparent by providing sales & marketing spend ROI. We actually track and report back to our clients on sales & marketing program ROI for the activities we execute. To learn more about Profitworks and why it was started click here. If you are interested in getting new customers for your business click the "Send Me Free Sales Insights" button below. I work at Profitworks Small Business Services helping various companies that sell their products/services to businesses in Waterloo and Kitchener, Ontario increase sales by executing sales and marketing strategies that generating new customers. My name is Chris R. Keller.Feel free to connect with me onGoogle+.
Other Articles You Might Be Interested In
1. Email Marketing Best Practices
2. The Key Questions To Ask To Close A Sale - Problem Questions
3. 15 Marketing Method That Have A High Probability For A Positive ROI
4. The Marketing Methods For Small Businesses With The Best Return On Investment