Worldwide, there are more than 2.25 billion users on Facebook — a number that has consistently grown 11%, year after year. With stats like these, it's no surprise that Facebook has become the avenue of choice for many small businesses to spread the word about their product, service, or brand through Facebook Ads. With constant changes in algorithms, though, a simple post to a company Facebook page is no longer enough to generate the reach you're looking for.
That's where Facebook Ads come in.
Although they require that you make a little room in your marketing budget, Facebook Ads are proven to drive marketing results. Not convinced? Keep reading for 5 of the top reasons why you should incorporate Facebook Ads into your marketing strategy.
Looking for support with your Facebook Ads strategy? At Profitworks, we are a team of marketing experts with experience crafting Facebook advertisements that generate conversions. Contact us to find out how our team can support you in creating effective Facebook Ad campaigns.

How do Facebook Ads Work?
Facebook Ads are simply targeted advertisements that allow you to promote your business page, posts, or website itself. By setting a budget and bid for the results you're looking for (whether its impressions, clicks, likes, etc.), you are able to target your add based on a series of factors, including location, age, interests, and more.
The result? Facebook advertisements that will actually reach your target market and campaign results that will help you make better decisions as a business.
If you're still not convinced of the benefit of using Facebook ads, here are 5 reasons why you should:
1. Targeting
As mentioned, Facebook's targeting abilities, when used correctly, are a powerful tool that helps you make the most of your marketing dollars. Gone are the days of hoping that someone in your target market will stumble across your digital ad. Now, you can reach your target exactly, with minimal heavy lifting on your end.
Facebook's full list of targeting options includes:
Age
Gender
Relationship status
Education
Workplace
Job titles
Location
Hobbies
Favourite entertainment
Likes
Purchase behaviour
Device usage
Interests
Connections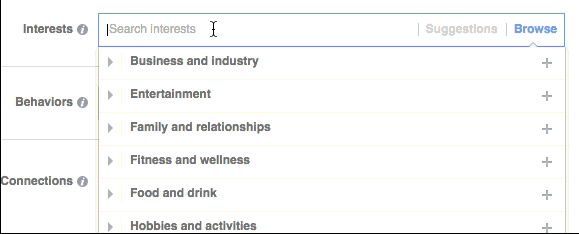 This feature allows your business to do two types of targeting: precise or general. Precise targeting involves using a number of factors to outline your market clearly, while general targeting involves using a few factors (such as age, location, and gender) to reach a larger audience. Although it may cost less to target a general audience, don't be fooled -- spending the extra time and money to zone in on your exact target market is more likely to result in a higher ROI for your business.
2. Reaching a New Audience
Although targeting can be a fantastic way to focus in on the market you know is most interested in buying from your business, Facebook Ads are also an incredible way to broaden the market that you currently have. By simply changing the target that your ad is designed to reach (and adjusting the copy accordingly), you have access to a much larger, global audience that could turn into customers for your brand. With almost 17% of the world's population on Facebook, your ability to reach a new audience is greater than ever!
3. Re-Marketing Based on Sales Funnels
The ability to re-market is one of the number one reasons why so many small businesses have turned to Facebook to reach their leads. With the shift to mobile shopping, abandoned cart rates are higher than ever and Facebook Ads are one of the most effective ways to re-engage those customers in the buying process. By creating custom audiences, you have the ability to upload customer contact lists, create lists based on your website traffic, or even lists of people who opened your businesses' app.
After you've determined who you want to re-engage, based on whatever activity they took before abandoning the shopping process, you can engage these individuals with advertisements that re-inspire them to pick up where they left off. For example, an abandoned cart may result in a newsfeed embedded advertisement reminding a customer what they're left behind and encouraging them to re-visit their cart--perhaps with a discount to seal the deal.
4. Budget-Friendly
Facebook Ads allow your business to reach both the right people and more people than most traditional marketing methods available today. Many businesses cannot afford the costs associated with tactics like radio or television marketing, and Facebook ads allow these brands to reach the same--if not more--people for a fraction of the cost.
The average cost per click of a Facebook ad in 2016 was 27.29 cents, and the cost per 1000 impressions just $7.19. For reference, the average cost per impression of a television ad is $25--more than 3x the amount for an audience that is declining every year.
Although the cost of your campaign will vary based on your advertising objective (i.e impressions, clicks, reach, etc.), the average CPM (cost-per-thousand impressions) remains at $7.34, meaning your business can take your marketing dollars further while still generating better results.
5. Valuable Analytics
Facebook's advertising platform offers valuable tools to help you measure your ad's performance. Through advertising insights, you can track your performance on pre-determined objectives, including:
Brand awareness
Reach
Traffic
App installs
Engagement
Video views
Lead generation
Messages
Conversions
Sales
Store visits

The choice of which advertising objective to choose will depend on your overall advertising goals, and whether you are hoping to generate awareness, consideration, or encourage conversions.
Once your ad campaign has ended, Facebook offers insights on how the ad performed, including the number of people it reached, the post engagements, link clicks, as well as the "cost per result" -- the number of results for your objective divided by your total spend. This is the number that is the most helpful in determining whether your campaign was successful and should influence your strategy moving forward!
Facebook Ads: The Small Business Secret Weapon
Facebook Ads are a powerful tool to be harnessed for your small businesses' success. Creating an effective Facebook Ad campaign isn't simple, though--designing an ad that encourages users to respond takes careful crafting by marketing professionals. Now that you understand the benefit of Facebook advertising, contact Profitworks to make the most of your marketing dollars and take your advertising strategy to the next level.
"I've found Profitworks to be tenacious and adaptable to the challenges our industry possesses" - Blair (Business Owner & Customers)
Read more customer testimonials here.