In this podcast we have the pleasure of interviewing Professor David Rose, from the University of Waterloo and the Conrad Business, Entrepreneurship and Technology Centre, who lecturers in the MBET program. In the interview, Professor Rose comments on what exactly an entrepreneur is, who can be an entrepreneur, what the determining factors as to a business' success are, advice on the marketing of new business ventures, and advice on where to start if you are looking to begin a new business venture. At the very end of the podcast he gives some great advice for all business owners and managers looking to be successful. Be sure to listen all the way to the end to hear this insight on how to be successful in business.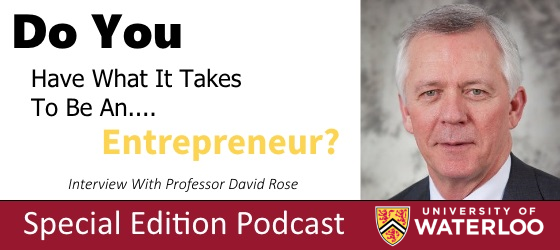 Sales & Marketing ROI Podcast: Episode #27
Do You Have What It Takes To Be An Entrepreneur? - Interview With Professor David Rose At The University Of Waterloo Conrad Business, Entrepreneurship And Technology Centre. Click the link below to listen to the podcast. 

Subscribe our podcast now - click here
View a full listing of all our podcasts - click here

About The Conrad Centre
The Conrad Centre was founded in 2002 by Dr. Howard Armitage. It is located in the city of Waterloo, Ontario within the Accelerator Centre building at 295 Hagey Blvd, Suite 240. 
The Conrad Centre was built to support the development, expansion and improvement of Waterloo's already-burgeoning culture of entrepreneurship. The Centre works to develop initiatives to promote the spirit of entrepreneurship through various activities, courses and programs. To explore some of these programs go to https://www.youtube.com/user/conraduwaterloo
For more information visit: https://uwaterloo.ca/conrad-business-entrepreneurship-technology/contact-us.
About The MBET Program
The MBET Program is one of a number of programs offered at the Conrad BET Centre through the University Of Waterloo. It is a three-term graduate program that includes entrepreneurial focused courses with a "startup culture" in the disciplines of marketing, finance, strategic management, business leadership, new venture creation, innovation management, corporate social responsibility, and entrepreneurial technology application. 
To learn more visit: https://uwaterloo.ca/conrad-business-entrepreneurship-technology/graduate-students/master-business-entrepreneurship-and-technology 
Professor David Rose
Professor Rose is currently the Associate Director of the Masters Business, Entrepreneurship and Technology program at the Conrad BET Centre, where he is also a Lecturer. 
Prior to his position at the University of Waterloo Conrad BET Centre he held the positions of Associate MBA Director and Lecturing Professor, Marketing at the Wilfrid Laurier School of Business & Economics. 
Learn more about Professor David Rose, view his Linkedin profile by clicking here.
Get A Free Review Of Your Website From One Of Our Website Conversion Experts
Complete With Our Top 5 Recommended Changes Specific To Your Website To Improve Sales
Profitworks Small Business Services provides website traffic and website conversion optimization services which increase the number of sales generated from a website. The focus of our services is on increasing sales and providing a positive return on investment. To learn more about Profitworks, click here. 
Improve your website today. Download our report on The 7 Key Tasks To Increase Website Traffic.
Other Articles You Might Be Interested In
1. How To Increase Sales From Your Website
2. Is Search Engine Optimization Worth The Money?
3. Social Media Marketing Services - The Top 7 Reasons Why to Spend That Money on Local SEO Services Instead
4. SEO vs PPC - Why SEO Gets The Better Return On Investment