A few days ago I was talking with a friend of mine who suggested to improve our blog I should write articles that are less static (like our post The 7 Key SEO tasks) and to make it include more specifics on things we are going for our clients. This blog article is our first attempt at make our blog less static. Hopefully you enjoy our new approach. Let me know what you think when you are done reading it.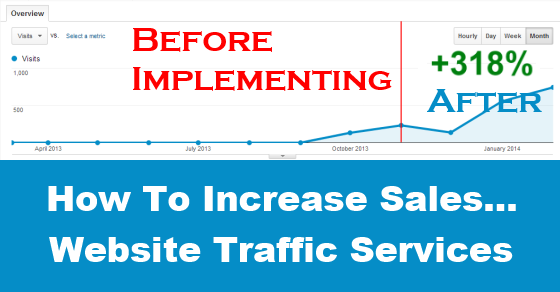 Get Sales & Marketing Insights To Grow Your Business

Executive Summary
- website optimization is usually the 2nd or 3rd best ROI marketing method to obtain new customers
- regularly adding content to your website will increase your websites rankings and traffic
- the content you create has to be relevant and be targeted for phrases your prospects would be searching for to increase sales leads
- by testing the layout and design of your key pages you can increase the conversion rate and generate more sales leads from your website
- it is important to look at the ROI, if you can't say for certain you are making money from it, it does not make sense to do it
How To Increase Sales - Watch The Video Below
To Leave a comment for this video go to Youtube.com
You can find more videos related to getting more customers on Profitworks' Youtube Channel.
The ROI For The Customer
Additional Sales = $35,000
Additional Profit = $10,171
ROI = +451%
The Key Activities We Executed For Our Client
1. Create A Content Plan That Will Attract New Customer Prospects
We created a list of article titles that was relevant to what people who are ready to purchase would be searching for.
2. Create Content Regularly
We created and posted content weekly.
To learn more about how SEO works read this article titled Search Engine Optimization for Small Business Owners by clicking here.
3. A/B Page Test
We tested two versions of some of the top traffic pages, by sending half of the traffic to one page and then half of the traffic to the other and analyzing which version generated a higher ratio of sales leads to website visits.
4. Track and Report On ROI
We tracked the sales leads that were closed from the website versus what the typical monthly results were before we started working with the client.
For this particular customer the ROI so far has been the following
Additional Sales = $35,000
Additional Profit = $10,171
ROI = +451%
Improve your website today. Download our report on The 7 Key Tasks To Increase Website Traffic.
Profitworks Small Business Services provides website traffic and conversion optimization services which increase the number of sales leads generated from a website. We focuses on actually tracking and reporting back to our clients on marketing program ROI for the activities we execute. To learn more about Profitworksclick here. Connect with us onGoogle+ or if you are just interested in getting new customers for your B2B small businesses.  Feel free to click the "Send Me Free Sales Insights" button below to get free advice on how to gain new customers.
Other Articles You Might Be Interested In
1. Email Marketing Best Practices
2. Website Marketing ROI Case Study
4. The Marketing Methods For Small Businesses With The Best Return On Investment
{fastsocialshare}