Business owners may be surprised to find that SEO usually generates 275% in ROI, or an additional $2.75 in profit for every $1.00 spent. Profitworks provides customers with a sustainable strategy to increase their website traffic and sales. This article is paired with a companion podcast in which we discuss the difference between SEO (Search Engine Optimization / Organic) and PPC (Pay Per Click / Paid) advertising. First things first, we explain what organic search and paid search are in simple, easy to understand terms, and how each is utilized by businesses to market their products and services. The podcast concludes with determining whether organic search or paid search delivers a better return on your marketing dollar. If, after listening to the podcast and reading this article, you determine that your business needs help understanding online marketing, feel free to send us and email to discuss whether our services would be a good fit for your business. Read on to see how we determine the industries most elusive and valuable metric the cost per click for SEO vs. PPC.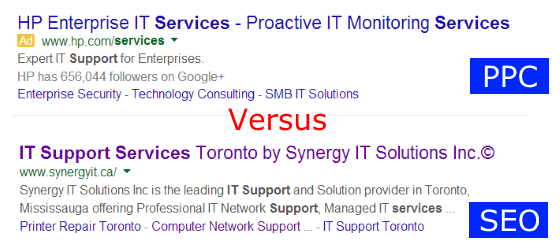 SEO vs PPC Chapters
Chapter 1 - What Are The Main Differences Between SEO and PPC
Chapter 2 - How Search Result Clicks Are Distributed
Chapter 3 - The Compounding Power of Search Engine Optimization Explained
Chapter 4 - Why SEO gets the better ROI than Google Adwords or Bing Ads
Chapter 1 Executive Summary
- Search engine optimizing a website to receive higher organic search engine results yields a better return on investment than paid search engine advertising
- Effective search engine optimization leads to higher organic search engine results
- Paid search (search engine advertising) can deliver immediate traffic but is costly, so further traffic to your website will stall once your budget runs out
- Over time, organic search result traffic to your website will continually increase if you continually conduct effective search engine optimization on your site
- Organic traffic accounts for 51% of web traffic and PPC traffic accounts for about 10% of website traffic
- Organic traffic accounts for 70% of all traffic for business services whereas PPC traffic accounts for under 3% of business services traffic
- Website marketing that creates organic traffic on average generates $2.74 in profit for every $1.00 spent in that year and $4.58 in profit over 3 years from the same $1.00 spent
- Pay Per Click advertising (PPC) such as Google Adwords and Bing Ads on average generates -$0.95 in profit for ever $1.00 spent in that year and -$0.85 in profit over 3 years from that $1.00 spent
Sales & Marketing ROI Podcast: Episode #44
Find out what are the differences between SEO and PPC in this featured podcast clocking in at a quick 10 minutes. Click the link below to find out:

Subscribe to our podcast now - click here
View a full listing of our podcasts - click here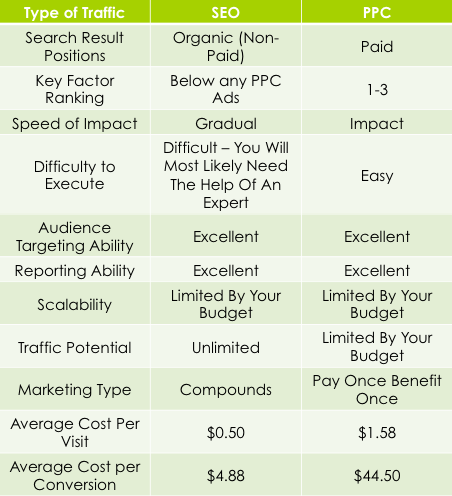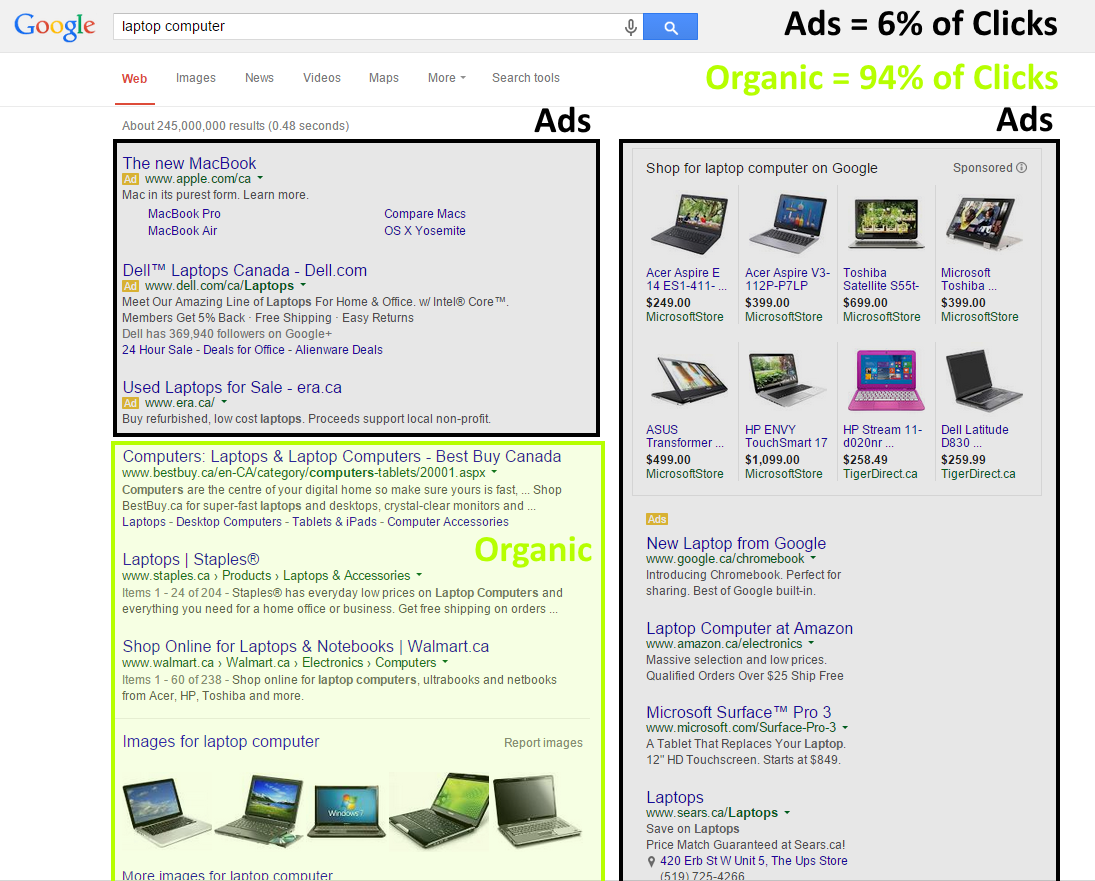 Source: http://searchenginewatch.com/sew/news/2200730/organic-vs-paid-search-results-organic-wins-94-of-time#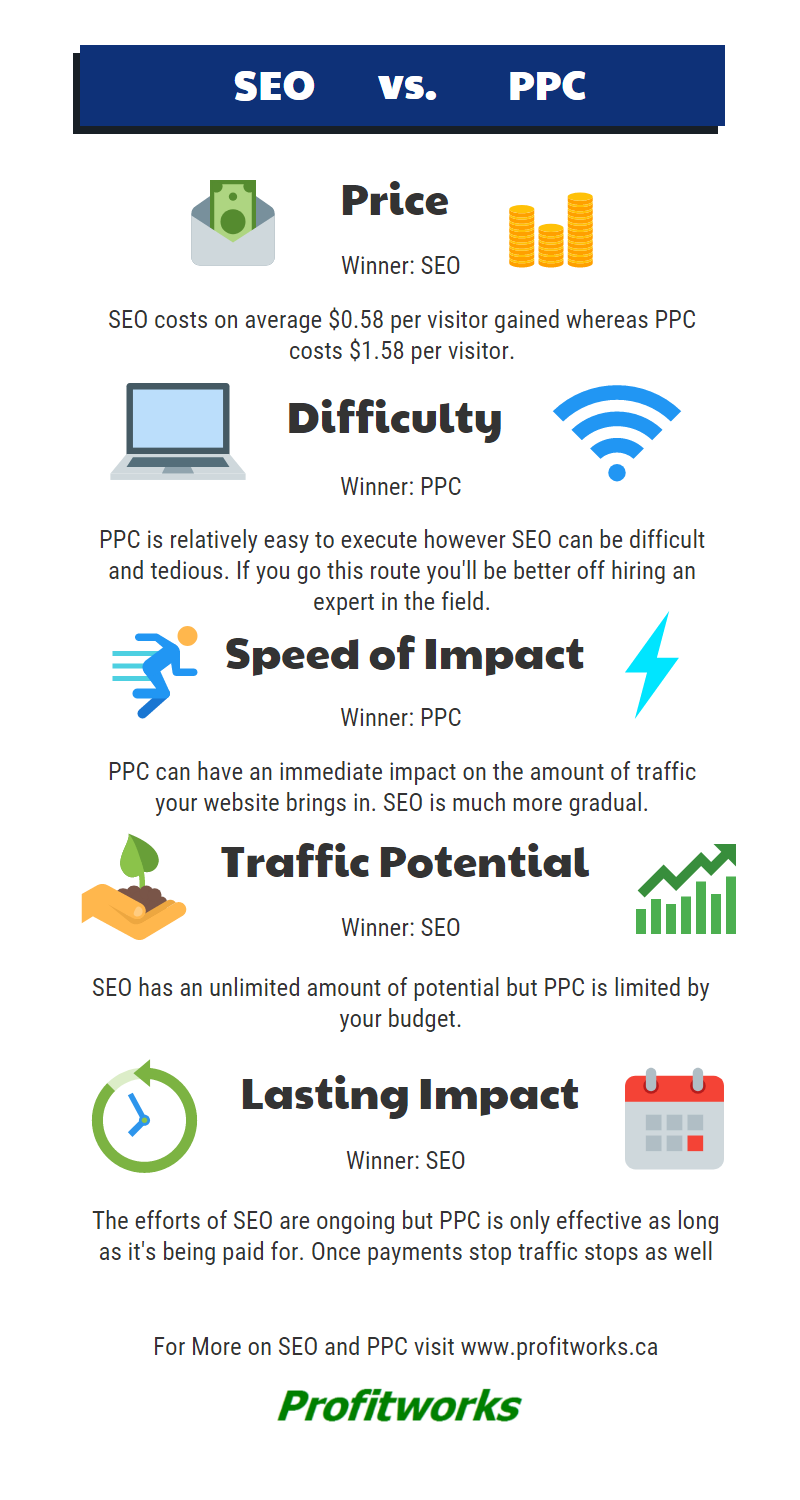 What is SEO (Organic / Search Engine Optimization)
SEO (search engine optimization) is the process of maximizing the number of visitors to a particular website by ensuring that the site appears high on the list of results returned by a search engine. All content for a particular keyword is pitted against each other by Google (or other search engines) to determine what pages to display and in what order. The most relevant and highest quality pages are shown at the top of Google by Google's search algorithm. Google wants to put the best content front and center on their first page since they want searchers to be satisfied with their services. Google notes that there are over 200 factors involved in determining where and when a search result is displayed. Stay tuned for upcoming chapters that will delve deeper into these factors. Readers are to note that SEO is technically "free" in that other than time spent on tasks to increase Google's ranking of a website, there aren't any costs. But as the adage goes, time is also a resource with a price tag.
What is PPC (Ads / Pay Per Click)
PPC is the process of paying in order to be displayed on a search engine's results in the form of an advertisement. For Google, these are the ads noted with the yellow "Ad" icon at the top of the search results as well as all of the results in the far right-hand column. Anyone can set up an Adwords budget of a set amount per month.
With a Google Adwords PPC advertising account, you can tell Google which keywords you would like to be shown for and then Google will display your website in the paid/sponsored section of Google searches matching those keywords. Part of the Adwords budget is used up every time a searcher clicks on the ad. Google will display the ad until your budget is maxed out, but will never go over. When one advertises with Google Adwords they do so on Google's search results and also ad partners. Ad partners are sites that have opted to allow Google to run ads based on search terms and other factors to be displayed when visitors are at a website.
Bing Ads also shares a number of key paradigms with Google Adwords conceptually, with the following differences mentioned here and on Bing's resource site. With Bing Ads, a business is paying for ads to be shown specifically on Bing, Yahoo, and Bing Ads' partners and not on Google and their affiliates.
Google Maps SEO and PPC Differences
You may have noticed that when Google returns search results it does so sometimes by listing Google Map results of relevant companies or places that meet your search criteria. Below are examples of both SEO and PPC results that provide users with valuable context information based on their perceived search location and interest inferred by the search terms used. This occurs when a prospect searches for keywords that resonate with an ad campaign or website that Google believes is relevant to what is being searched. Below is an example of when Google (left) and Bing (right) search provides both SEO and PPC results through the use of their maps functionality:
Google

Bing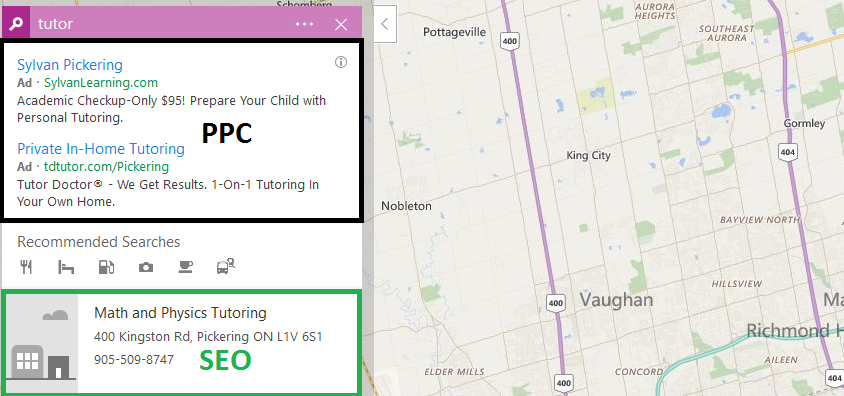 ROI and Cost Numbers Lean Favourably Towards SEO
Based on our experience, we have compiled a chart that harmonizes the SEO and PPC results, along with data from an industry source to determine a coveted metric on SEO vs. PPC cost per click (the cost of getting one click from search results or ad results to your web page) and cost per conversion (the cost of a visitor on your site turning into a customer). Readers are to note that figures are based on a mix of averages and estimates, with the figures below serving as baselines for expectations, not guaranteed results. From the analysis below, companies can look at receiving a savings of almost 300% when spending money through time and analysis on search engine optimization for each click to their website. For the cost of a visitor becoming a sale/prospect, companies can save even more.
Here is a table that summarizes the significant differences between SEO and PPC when it comes down to these metrics: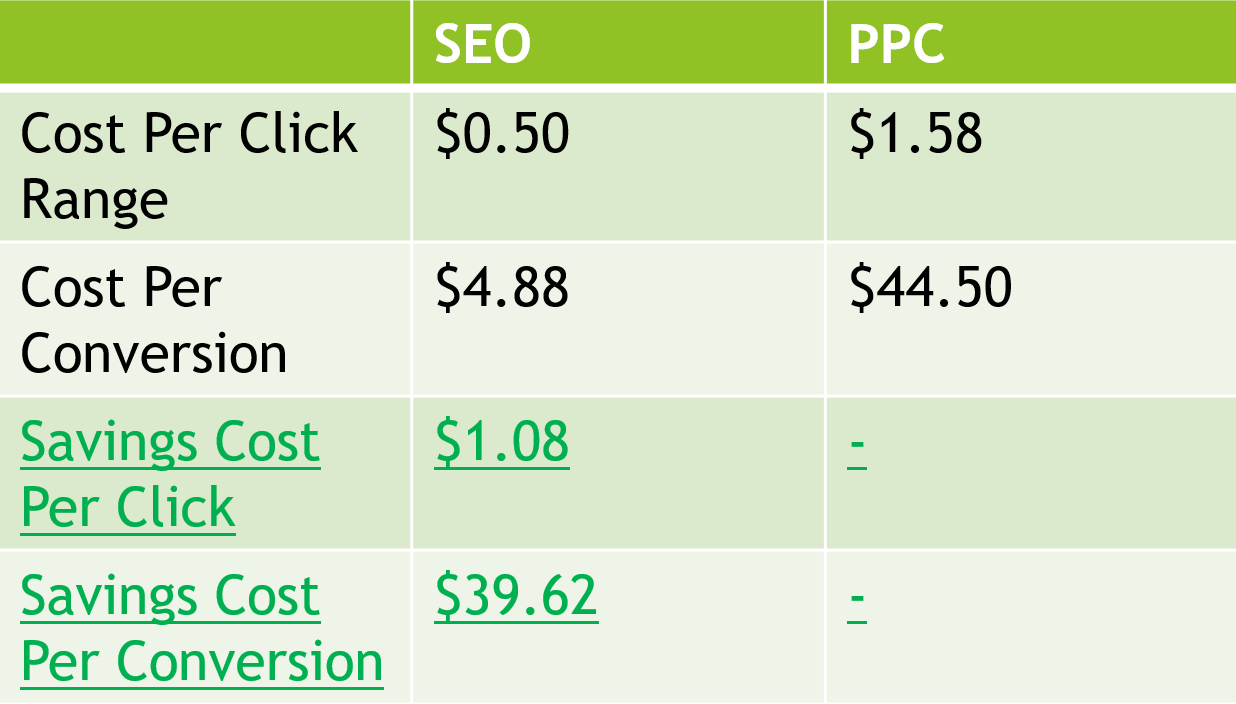 Profit per Dollar Spent for SEO = $2.75
Profit per Dollar Spent for PPC (Google Adwords) = -$0.95
That means in the above scenario if you spent $100 on SEO and $100 on Google Adwords you would get $275 in additional profit from SEO and lose $95 from spending on Google Adwords. This conclusion further supports a previous article penned by the Profitworks team on Why SEO gets the better ROI and the Compounding Impact of SEO.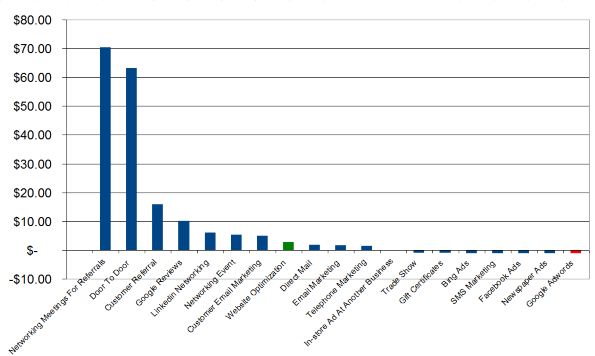 Data for ROI was collected from 2010 to June 2014 across all of our clients and our own business.
If you would like a copy of this chart in a PDF form, email us at This email address is being protected from spambots. You need JavaScript enabled to view it..
Learn more about the difference between SEO and PPC here.
How Do I Rank Higher with SEO
Ranking higher organically is done by creating meaningful content that Google searchers will want to read for a specific keyword and then search engine optimizing that page for that keyword. A website's organic rank does not cost them anything. The only cost is the time and effort to get that ranking, which you can do internally or have an expert do for you. Profitworks offers SEO services for websites that are looking to increase their organic rank and thus the ROI from their website. In general, we see that SEO services usually generate a 275% ROI or an additional $2.75 in profit for every $1.00 spent. To learn more about whether search engine optimization is worth the money, click here.
Improve your website today. Download our report on The 7 Key Tasks To Increase Website Traffic.
"Profitworks has delivered on every commitment made. Instead of paying per click, they have rebuilt our content to organically rise to the top of the search page" - Tim (Business Owner & Customer)
Profitworks Small Business Services provides website traffic and website conversion optimization services which increase the number of sales generated from a website. The focus of our services is on increasing sales and return on investment from a website. To learn more about Profitworks, click here. Connect with us on Google+, or if you are just interested in getting new customers for your business, feel free to click the, "Send Me Free Sales Insights" button below to get free advice on how to gain new customers.
Other Articles Related to this Topic
1. Building The Best SEO Company
2. Is Search Engine Optimization Worth The Money?
3. Web Marketing Myth Or Reality?
4. SEO vs PPC - Why SEO Gets The Better Return On Investment
5. The Difference Between Organic and Paid Search