In this blog article and podcast, we are going to talk about what Profitworks is working on to become the best SEO service provider as well as some of the value-added services that we offer to our clients.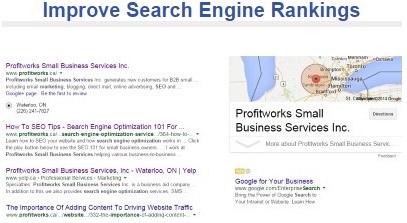 Executive Summary
 - we tailor our service to each individual customer
 - we are working to decrease our response time to our customers to under 15 minutes for all requests
 - we are working to even further improve our reporting and measurement to our customers
 - we are continuing working to deepen our existing understanding of how website conversion works
Sales & Marketing ROI Podcast: Episode #20
Best SEO Services - How We Are Working to Make Our Services the Best Available. Click the link below to listen to the podcast. 
Listen to this podcast- click here

Subscribe our podcast now - click here
View a full listing of all our podcasts - click here
Tailored Services for Our Client's Industry
At Profitworks we work with clients across a wide range of industries, ranging from manufacturing to food services. We understand that each industry has its own specific nuances and we adapt our services to match. The style of web pages written, type of web pages written, web page design and more can all vary depending on who the page is targeting. In certain industries, the pages are targeting engineers and purchasing managers, while for other clients the pages are targeting the general public.
We apply all of the knowledge that we have accumulated working with clients across many different industries and apply that to every job. This allows for the most effective means of maximizing traffic and conversions.
Rapid Response Time
For many of our clients, we are their go-to source for making any sort of changes to their website. Clients may email us new information they would like published to their site, changes to specific pages they would like to see, or a new set of media that they would like used going forward on new pages. We are working to reduce our response time to under 15 minutes for all requests and working to reduce the average request completion time to under 1 hour, and under a day for all requests.
ROI Focused Approach
In regards to ROI, we are working towards having all of our clients receive monthly updates on the ROI they are seeing as a result of our services. Currently, we already implemented this for about half of our client base. Increases in traffic are expected with SEO services, but an increase in sales is the true benchmark that we are working towards. The new pages we create for our clients utilize the best conversion tactics that we have learned over our years of SEO experience.
"I've found Profitworks to be tenacious and adaptable to the challenges our industry possesses."
Blair - Business Owner & Customer
Read More About What Our Customers Say
Complete Transparency on How We Are Performing
We are accountable to our clients for how we are performing and they are paying us for results. As such we have complete transparency with how we are performing for their website. We send out weekly reports that outline the work we have completed for the week and results on how the website is performing. In addition, we conduct in-depth 6-month reviews that discuss the complete performance of the website. The goal is to demonstrate a positive ROI trend. In the past year, we also have revised and improved our monthly report, which looks at a longer time span than the weekly report.
Our plan in the coming year is to take this already high level of transparency and raise the bar even higher, while at the same time taking the mass amount of information we share with our clients and making it very simple and easy to understand. In regards to transparency, we are working to be the best in the SEO industry for reporting to our clients and helping them understand how their website is performing. We believe every customer should understand how much they are paying us and how much they are ahead in profit at the end of the day by working with us.
Keyword Analysis
Even the best content is only as good as the keyword it is trying to rank for. At Profitworks, we spend a considerable amount of time focusing on keyword analysis and discovering the best keywords for your website. A high-quality keyword will bring in traffic from a business's local region and will be sales-related in order to bring in additional sales results. Certain keywords can bring in 1000's of visitors every month if they are coupled with high-quality content. We are currently working to improve our keyword analysis process as well as our page rank and conversion tracking tools further to make them market-leading and fully proprietary.
Profitworks is continuously analyzing keywords and selecting the best keywords for your website in order to maximize traffic and conversion results.
Content That Converts
Content that brings in additional traffic is half the story. The other half is content the converts that traffic into sales. At Profitworks, we are continuously working to improve our process for how we develop content that brings in relevant prospects who are ready to buy. The process of determining the right content to create is one of the most important factors to successful SEO. The other piece of effective content is that the content has to convert. The people reading the content have to then want to buy from you. In this area, we are conducting multiple tests each month to deepen our understanding of what makes people convert. This process is an ongoing process and in the last year we have learned a significant amount about conversion and we will continue to test new ideas to deepen our understanding even further.
Get A Free Review Of Your Website From One Of Our Website Conversion Experts
Complete With Our Top 5 Recommended Changes Specific To Your Website To Improve Sales
Profitworks Small Business Services provides website traffic and website conversion optimization services which increase the number of sales generated from a website. The focus of our services is on increasing sales and providing a positive return on investment. To learn more about Profitworks, click here. Feel free to connect with us on Google+, or if you are just interested in getting new customers for your business, feel free to click the "Get It Now" Button above.
Improve your website today. Download our report on The 7 Key Tasks To Increase Website Traffic.
Other Articles You Might Be Interested In
1. SEO Tips For B2B Small Businesses
2. Is Search Engine Optimization Worth The Money?
3. Building The Best SEO Company
4. SEO vs PPC - Why SEO Gets The Better Return On Investment