Recently I did some reflecting on how I should be running my business. This article is a summary of what I learned, which happens to be the most valuable things I have yet to learn about running a business. It is more valuable than than any of the things I have learned about marketing, sales advice and website optimization. It is the best advice I can give a fellow business owner for their business, period.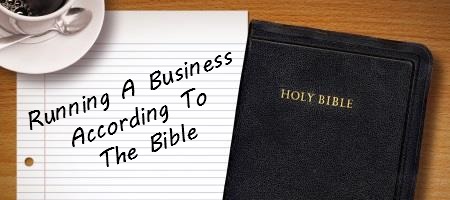 1. Love the Lord with your business
Verse: Love the Lord your God with all your heart and with all your soul and with all your strength and with all your mind - Luke 10:27
Jesus tells us that the number one thing we are to be focused on at all times, and in all that we do, is to love the Lord with all our heart, soul strength and mind. This includes running a business. If you do this and ask God for direction God will guide you in all that you do, including how to run your business. What I understand this verse also to mean is that in what you do with your business, do it in a way that is loving God with all your soul, heart, mind and strength.
2. Love your customers & competitors as yourself
Verse: Love your neighbors as yourself - Luke 10:27
Jesus tells us that the second most important commandment is to love our neighbors as ourselves. This rule again applies within the business world. Our neighbors are those beside us and those that we interact with. In business this means your competitors, your suppliers, your employees and your customers. It is no good to treat your customers in a way you would not want to be treated, this is obvious. A little less obvious is that it is no good to treat your competitors in a way you would not want to be treated. One, God will not be happy with this action. Two if you treat your competitors fairly and in a way you want to be treated it will be hard for them not to treat you the same way in return. If you treat your customers the way you want to be treated they will be loyal to purchasing from you and tell their friends and acquaintances to buy from you. This is why the Dale Carnegie principles are so effective in the business world. Because in a nut shell they are simply treating people the way you would want to be treated. They work because they follow what God wants us to do.
3. Trust in the Lord
Verse: Trust in the Lord with all your heart and lean not on your own understanding; in all your ways submit to him, and he will make your paths straight. - Proverbs 3:5-6
Instead of trying to do it yourself lean on God to guide your paths. Why try to do things on your own when your abilities, power and insight are far inferior to that of the Almighty God? Instead why not let him guide you in what to do, given his path will be far superior to your own. That does not mean that it will be easy or that God will not ask you to do things that are against what you want to do, are very hard, or may negatively impact the profit you derive from your business. What I get when I read this verse is that God may very well ask me to do things that are hard, against what I initially want to do, are against what makes logical sense or is just not wise for the health of the business. But what I also get from this verse is that if I have strong enough faith to listen and obey to what he is calling me to do with my business he will never lead me astray and always direct me down the best path.
4. Study God's Word And Apply It To Your Business
Verse: Every word of God is flawless; he is a shield to those who take refuge in him. - Proverbs 30:5
God`s word is flawless and more valuable that anything else (Proverbs 4:7). Therefore it only makes sense that investing in studying God`s word is the activity that will have the best return on investment for your business. Now that return may or may not come in material value such as revenue or profit, but it will for sure transpire in a form of far greater worth. It will come to fruition in an eternal reward. Money and wealth pass away when you die and can also be taken away in an instance when you are alive. A reward in heaven can never be taken away from you and therefore is of infinitely higher value. Instead of trying to do it yourself lean on God to guide your paths, to give you strength and to provide for you. God`s promise to us is that he will provide for our every need and he will provide us with a refuge when things get hard. If you want to get access to God`s word so that you can study it daily it is very easy to do. You can buy a bible, read it free online at www.biblegateway.com or download it free on your smart phone.
Apple - https://itunes.apple.com/ca/app/bible/id282935706?mt=8
Android - https://play.google.com/store/apps/details?id=com.sirma.mobile.bible.android&hl=en
Blackberry - https://appworld.blackberry.com/webstore/content/1222/
Windows - http://www.windowsphone.com/en-us/store/app/bible/3b133bd3-6247-4459-ade8-7828ecd016be
Free Bible PDF Dowload - http://d23a3s5l1qjyz.cloudfront.net/wp-content/uploads/2012/09/King-James-Bible-KJV-Bible-PDF.pdf
Other Articles You Might Be Interested In
1. The Marketing Methods For Small Businesses With The Best Return On Investment
3. Small Business Marketing - 5 Key Components
4. How To Write A Marketing Plan For A Small Business In 7 Easy Steps