Google Algorithm updates impact your website rankings by moving your rankings lower if you are not doing what Google wants. If, however, you are following Google's direction for how to provide web users with a better experience, Google will improve your web pages rankings in search results. (Google's most recent update was the Mobile update, continue reading to learn more). Higher rankings means more traffic and if it is the right kind of traffic this should lead to higher sales and profits. There is a large list of factors that affect search engine rankings and this list is always changing as google makes more algorithm updates. Currently, it appears the greatest factor that impacts rankings is the click through rates of your pages. In this article, you can find and overview of all of the key factors currently used by Google to determine rankings.
On this page there is also a podcast that discusses what is Google's search algorithm, what factors are currently included in the algorithm, what factors currently carry the most weight and what updates Google has made is the past to the algorithm they use to determine search result rankings. If Google's search algorithm means nothing to you, this podcast is a great place to start.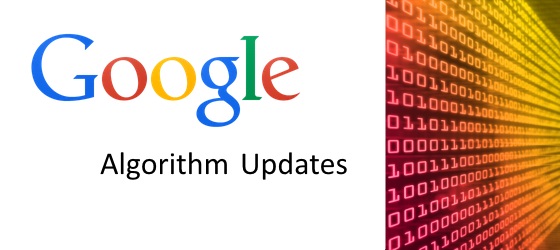 Executive Summary
 - Companies who invest in SEO on average see a return on investment of 275%
 - Google is constantly making updates to its search result algorithm
 - The most recent Google algorithm updates was "Mobile", which was designed to display mobile friendly websites higher in search results conducted on mobile devices
 - Google uses a large and constantly changing list of factors to determine where to display any given web page in search results
 - Currently, the number one ranking factor used by Google appears to be search result click through rate
Sales & Marketing ROI Podcast: Episode #13
How Google Algorithm Updates Impact Your Website Rankings And Traffic. Click the link below to listen to the podcast. 

Subscribe our podcast now - click here
View a full listing of all our podcasts - click here
What is Google's Search Algorithm
Google's search algorithm is the formula that it uses to determine where a website should rank on a Google search. The exact formula is a secret, but we are able to make educated guesses at which components are important by analyzing data and seeing what factors correlate to higher rankings. Pages that have the proper elements that Google is looking for will rank higher than pages that are missing one or more elements.
What Criteria Impact the Search Algorithm
The most important element of all for your page is what kind of a click through rate your page gets when it is displayed in search results. Google wants to show information that people want to read and this is one way they use to determine what content people want to read. The other top ranking factors are the relevancy of the content to the search phrase, the number of Google+1, the number of backlinks, and the number of Facebook shares. We also know that Google's goal is to show the best content to answer people's searches so it is very likely that time spent on a page is also used by Google to determine rankings. Google knows if a user spent 5 seconds on your page (implying your page isn't very good), or 30+ seconds on your page (implying your page had relevant information to what they were searching for). Pages that have higher time on site will rank higher.
Other criteria include the SEO strength of the backlinks, the number of tweets, the number of Pinterest pins, the number of no follow backlinks, the position of keywords in the title, and page load times. Google wants web pages to load in under 1.5 seconds. In addition Google has recently worked to reward sites that are mobile friendly and penalize those that are not. How mobile friendly your site is. On April 21, 2015, Google updated their search algorithm to put a much higher emphasis on mobile friendly websites. As much as 50% of all web traffic comes from tablets and smartphones and as such having a website that works well for those devices is essential.
When Does Google Make Algorithm Changes?
The following are all search algorithms updates that Google has made in recent years:
Panda – Feb 2011 – aimed at stopping sites with poor content from reaching the front page of search results. Sites are re-evaluated periodically so websites can begin ranking highly if they change their web pages to feature high quality content.
Top Heavy – January 2012 – aimed at preventing sites that are particularly 'top heavy' with ads from ranking highly
Penguin – April 2012 – aimed at stopping sites from achieving artificially high rankings through the purchase of links to their website or through the use of link networks. The goal is to have organic links boost a site's ranking, not paid or artificial ones.
Pirate – August 2012 – the goal of the Pirate update was to prevent sites with high amounts of copyright infringement from ranking highly
Exact Match Domain – September 2012 – aimed at preventing sites with poor content from ranking highly simply due to popular search terms in their domain name.
Payday – June 2013 – aimed at cleaning up search results for "spammy queries" such as 'payday loan', explicit and other similar queries.
Hummingbird – September 2013 – larger emphasis on entire search query instead of specific keywords with query
Pigeon – July 2014 – aimed at providing more useful and relevant local search results.
Mobile - April 2015 - aimed at showing mobile friendly websites higher in search results on mobile devices (not affecting desktop searches)
For an up to date list of Google Search Algorithm Updates, go to the source url below. 
Source: https://moz.com/google-algorithm-change
What If My Website Doesn't Have One or More of the Search Criteria?
It can be very difficult to get a perfect ranking for all of the criteria that Google is looking for. The higher the score the better your website will rank in Google though. Google has a free tool available called "Google PageSpeed Insights". When you go to that tool, enter the URL of your website and it will give your website a score for both mobile and desktop and list ways to improve your website's load speeds. It breaks down your site review into three categories. Green = elements of your site that it likes. Yellow = elements of your site that aren't perfect, but also aren't critical to their search algorithm. Red = critical errors of your website that need to be fixed in order for your website to rank higher. Profitworks is able to work with an existing website to improve the site's standing with Google, as well as create content that is designed to captivate thousands of additional visitors per month. If you would like help with getting more sales from your website feel free to contact us to set up an appointment to discuss. 
What is the Return on Investment from SEO?
Profitworks heavily focuses on tracking returns on investment and delivering a positive return on investment for all of its clients. From our experience most good marketing programs usually return a return on investment of between 100% to 200%. SEO usually returns above average returns on investment versus other marketing methods. It has been our experience that usually good SEO services generate a return on investment of 200% to 300%. Or another way of stating it would be that it usually generates $2.00 to $3.00 for every dollar spent on SEO services
What Is SEO (Search Engine Optimization)
If you don't know what SEO is I will describe it here. If you already know what it is reading this paragraph will not be a good use of your time and I would suggest you skip forward to the next paragraph. SEO stands for Search Engine Optimization. SEO is the process of maximizing the number of visitors to a particular website by ensuring that the site appears high on the list of results returned by a search engine. To learn more about what SEO is click here or to watch a video that explains it click here. 
Get A Free Review Of Your Website From One Of Our Website Conversion Experts
Complete With Our Top 5 Recommended Changes Specific To Your Website To Improve Sales
Profitworks Small Business Services provides website traffic and website conversion optimization services which increase the number of sales generated from a website. The focus of our services is on increasing sales and providing a positive return on investment. To learn more about Profitworks click here. Feel free to connect with us on Google+ or if you are just interested in getting new customers for your businesses feel free to click the "Get It Now" Button above.
Improve your website today. Download our report on The 7 Key Tasks To Increase Website Traffic.
Other Articles You Might Be Interested In
1. SEO Tips For B2B Small Businesses
2. Is Search Engine Optimization Worth The Money?
3. Building The Best SEO Company
4. SEO vs PPC - Why SEO Gets The Better Return On Investment